The Juice Craze: Revitalized and Closer Than Ever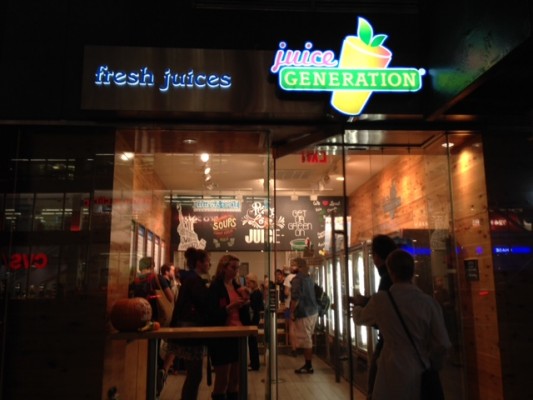 Ok, so hear me out. I know the juicing and smoothie craze has been so overhyped and over-publicized. It has become a trendy and overpriced food accessory for the zealous health hipsters. Putting all of the negative connotations the juicing trend has aside, there is a reason the liquid meal is having its  moment in the spotlight. It is easy, fast and fresh. How convenient is it that when you are hungry, but don't have time for a meal, you can just pick up a liquid meal and be satisfied in just a few sips?! For busy students whose schedules are packed, this is the ideal meal (well this and copious amounts of junk food, but we won't talk about that right now). If only there were such a place like this around Fordham … Enter Juice Generation, one of my favorite juice and smoothie places that has opened a new location on Eighth Ave. between 57th and 58th Streets.
Juice Generation's menu has something to satisfy everyone. They have fresh juices made to order, cold-pressed juices, smoothies, açai bowls, raw food and vegan soups. For me, Juice Generation is all about the juice and smoothies. The juice flavors range from vegetable to fruity. Additionally, each juice is mixed with a certain element of health in mind. Need a boost of vitamin C to start off your morning? Get the Citrus Super C ($5.25), which is a delicious and nutritious blend of grapefruit, pineapple, orange and mint, which gives the drink a fresh kick. Feeling like you need some more green veggies in your life? Juice Generation has multiple green juices on their menu that feature kale, spinach, cucumber and celery. 
Fall is that time of year when we all get the sniffles or a nasty seasonal cold. But Juice Generation has boosts to help you get your health back on track. The "Juice Farmacy" features drinks like the "Cold Buster," ($3.95) which has Echinacea, zinc and vitamin C masked in a delicious concoction of green tea and orange juice with hints of ginger and raw agave, that adds a sweet and spicy depth of flavor. If your stomach can't handle a full glass of juice, Juice Generation has you covered with 3 "Farmacy" shots. Some of  the shots can be intimidating. I'm not going to lie, the wheat grass shot ($2.65) tastes like … grass. But the shots make you feel good on the inside afterwards. There are numerous health benefits from drinking wheatgrass shots; liquid chlorophyll in wheatgrass is a natural healer, antibacterial and can help improve blood sugar problems. 
If you are not in the mood for juices, Juice Generation has an array of smoothie options. My two personal favorites are the Red Dragon Fruit and the Joyful Almond. The Red Dragon Fruit smoothie is made of dragon fruit, mango, banana, pomegranate, raw agave and ice. Not only is this smoothie visually appealing (it is this fabulous hot pink color), it is very tasty. The mango and pomegranate help bring out the subtle sour flavor in the dragon fruit and pairs nicely with the banana, which gives the smoothie a thick texture. The raw agave gives the drink a pleasant sweet taste that blends into the fruity base; the ice rounds the drink out and makes the smoothie a refreshing treat. 
The Joyful Almond is packed with protein and is more filling than the fruit-based smoothies. I would recommend it for a pre-class boost or an on-the-go lunch option. Almond butter and almond milk are elevated with the addition of banana, cacao nibs and raw agave. But the secret ingredient that ties this drink together is the frozen coconut milk because it adds a slight sweetness but blends into the background by enhancing the almond flavor. The cacao nibs add a hint of chocolate naughtiness and pairs perfectly with the banana. The banana rounds out the powerful nutty flavor from the almond milk and butter. I would say this drink is a guilty pleasure, but when the ingredients are so good for you, it is easy to rationalize this one as the perfect healthy snack. 
I have loved everything I tried at Juice Generation, with the exception of the Açai Bowl. The Açai Bowl is filled with a thick Açai smoothie and is topped with fruit and granola. Juice Generation has five different Açai bowls, all of which sound delicious. I opted for the Aloha Açai ($8.45) which has the Açai smoothie base and is topped with banana, pineapple, bee pollen, almond milk and hemp granola. The banana and pineapple were delicious, but the Açai base was cloyingly sweet and need some acidity to balance out the flavor profile. The bee pollen added to the overly sweet taste and left an unpleasant aftertaste. While the hemp granola added textural contrast and was delicious, I don't think there was enough of it in the bowl to hide the super sweet Açai smoothie base. However, I know a ton of people who love the Açai bowls from Juice Generation, so I recommend you order one and see for yourself. Let me know what you think.
So what are you waiting for? Everyone needs a snack sometime in the day! Go to Juice Generation and try one of their delicious juices or smoothies for some energy on-the-run.