Point: Print Books Over E-Books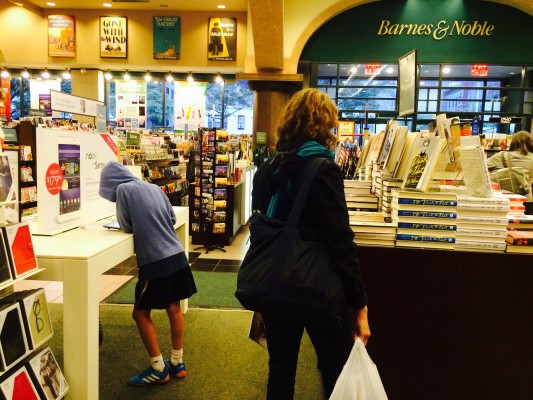 Electronic books, or e-books, have often been lauded for their environmentally-friendly production (as compared to print books) and ease of distribution and hailed as the future of the publishing industry. Yet time and time again, avid and occasional readers alike admit that they prefer print books. In fact, a 2013 Princeton Survey Research Associates International study found that 70 percent of American adults read print books that year, and only 4 percent read e-books exclusively, despite nearly half of adults in the United States owning an e-reader. And there's a reason we overwhelmingly prefer print books to their electronic counterparts—simply put, it is much easier to make them, get them and use them.
For students, it's especially important to save money on textbooks—and by sticking with print books, we'll be doing just that. Never mind how much easier it is flip to a certain page, and dog-ear or place sticky-notes on others while in the middle of a fast-paced lecture (a 2011 University of Washington study found that e-readers were simply not built for this kind of academic reading), or the fact that it's quite likely your required books might not be available in e-book format, the cost of a paper book is about the same as that of an e-book, the only difference being that you don't need to purchase a costly e-reader.
There's a myth that the cost of production for an e-book is virtually nothing compared to the monumental costs involved in printing paper books: but that's exactly what it is—a myth. Even when you take into account the cost of paper, printing costs and shipping costs, it only costs around $2.50 to make a typical $25 hardcover. And the process is relatively simple. But creating an e-book is not as straightforward as creating a PDF of each page of the corresponding paper book. The EPUB file is used by most (but not all) e-readers and e-book software, and it is notoriously difficult to create.
A correspondent from The Economist's Babbage blog, faced with the task of creating a 216-page e-book, used Adobe InDesign to create an EPUB and found that even the simplest choices affected the flow of text in InDesign. The process was tedious, and one can imagine that on a larger scale, the manpower that goes into creating an e-book can be quite costly.
The cost of an e-book versus that of a print book doesn't even take into account the cost of the e-reader. E-readers like the Kindle and the Nook can cost upwards of $100, and this price is not offset by the price of e-books. This latter fact seems surprising, but it actually makes a lot of sense. When the e-book industry was in its infancy, Amazon was able to sell e-books considerably cheaper than print books and offset this lower price by their Kindle sales. But then along came the iPad: a user could download the Kindle application (app) for free, and buy e-books and download them directly onto their tablet. It is no longer necessary to buy a separate device for reading books—and that's assuming that every Fordham student owns a tablet or a smartphone that's compatible with an e-reader app.
It's not profitable to sell e-books on the cheap if consumers can simply download it to their iPad instead of buying a Kindle. Publishers and book-sellers like Amazon don't care enough about incentivizing their customers to buy e-books: it is, after all, still a print world. Most people are reading print books, and print book sales are still the primary place of profit.
On the subject of saving money, there's always the option of borrowing the required books for class from Fordham's libraries or any of the branches of the New York Public Library (for free!). Libraries will almost always have the desired book's print version in stock. It's extremely rare that they'll have the e-book (and even rarer that it will be compatible with your device).
Print books come in many editions and translations, while e-books are quite limited—e-book publishers focus on popular titles (especially those in romance and erotica) and only a mere tenth of all e-books are geared towards the academic market—and the ease of using the former cannot be compared to the latter. We live in a print world, and we'll continue to do so. There might be something out there that is cheaper, easier and more economical than print books, but it certainly isn't the e-book. Whatever it is, we haven't found it yet, and until that time, print books will continue to be the best choice both in and out of the classroom.