College Council Talks Freshmen Registration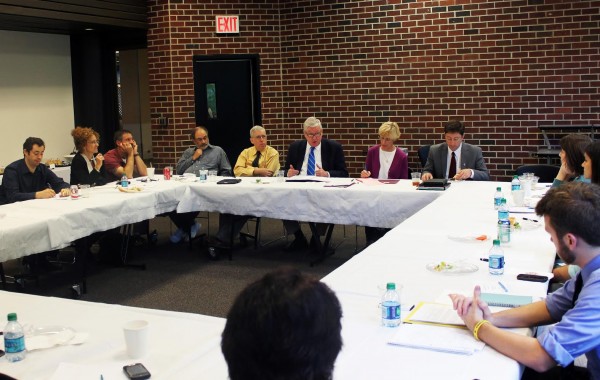 The protocol for registration for incoming freshman students and Sodexo were discussed at the College Council meeting that took place on Thursday, Oct. 16 in the South Lounge at Fordham College at Lincoln Center (FCLC). 
Rev. Robert R. Grimes, S.J., dean of FCLC, brought up for discussion the process for incoming freshman to register. In the past, incoming freshmen have traditionally registered for their own classes during the summer. "We are the only undergraduate college that does that," Grimes said. "The others produce a schedule for upcoming students." 
"What happened over the years is that there has been an erosion," Grimes said, referring to the fact that freshmen are pre-registered for three classes (language placement, Eloquentia Perfecta seminar, and English Composition). A motion was resolved that FCLC would join the other Fordham undergraduate colleges in presenting incoming freshman with full schedules. 
It was also resolved that all Gabelli School of Business Lincoln Center (GSBLC) students will register for classes at FCLC with their class standing, the model used by Fordham College at Rose Hill (FCRH). 
Robert K. Moniot, associate dean of FCLC, brought up the registration differences between FCRH and FCLC. Though students at FCLC are able to register earlier, they do not have access to any classes at FCRH until students at FCRH register for their classes. According to Moniot, "the system couldn't handle the load of too many people," as evidence by last year's registration issues. 
Deming Yaun, a Fordham representative to Sodexo, was present at the council meeting to discuss faculty dining options. 
According to Keith Eldredge, dean of students at FCLC, the administration is trying to figure out how to provide comprehensive food service on the new campus. Last year, there was only the Ram Cafè and a small venue in the Law School. Now, there are four larger venues in addition to the Ram Cafè. 
Yuan, who was hired by Fordham to represent their needs to Sodexo, described the current faculty dining situation as "not what anyone would call an inviting space. It's not private – it's rather sterile."  "We are working with Sodexo on options," Yuan said. Designers have been looking at the current space and will provide different options to make the faculty space better suited to the faculty needs. 
"The issue here is more privacy," Assistant Professor of Mathematics Leonard Nissim said. 
"Certain parts of the building look great," Gwenyth Jackaway, undergraduate associate chair of communications and media studies said. "It's statement on where the University's priorities are. It's interesting where the resources go and where they don't."
Other council members also brought up the prohibitive cost to cater from Sodexo for school functions and departmental meetings, and asked if there were other vendors that they could hire. "Over the last few years, we were trying to have coffee, cookies, and fruit salad at a mid afternoon meeting and it would be $250. That's absurd," Jackaway said. 
According to Eldredge, this policy was enacted to ensure food safety. "Conditions are more based on making sure there is proper liability for the food." 
"If something happens at a Sodexo served event, the university is held 100 percent not accountable," Yuan said. 
Also on the agenda, was the introduction of the new assistant deans: Josiane Gregoire, assistant dean for seniors, and Milton Bravo, assistant dean for juniors and transfers. 
Grimes announced to the council that the memorial for the late Professor Emerita Eva Stadler will take place on Nov. 11 at 5:30 p.m. In addition, the passing of Marian Seldes, an adjunct faculty member and Tony Award winner, and Lisa Ryer, the secretary on the fourth floor of Lowenstein, was announced. 
The meeting was adjourned at 12:29 p.m. The next College Council meeting will take place on Thursday, Nov. 13 at 11:30 p.m. in the South Lounge at FCLC.