"Person, Place, Thing" with Ben Brantley: Live Taping at FCLC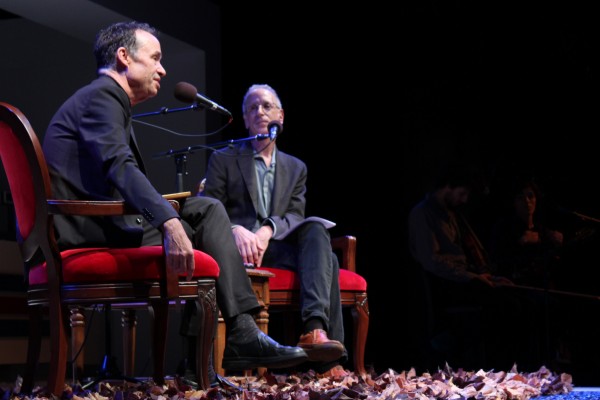 On Oct. 13 in Fordham College at Lincoln Center (FCLC)'s Pope Auditorium, Randy Cohen, the prominent radio show host, took the stage. He was joined by featured guest, Ben Brantley, the chief theater critic of The New York Times, for a live taping of Cohen's show, "Person, Place, Thing."
This taping revolves around the idea that the guests can reveal more about themselves through describing the most important person, place and thing in their lives. During the show, Cohen asked Brantley about a defining person, place and thing in his life. In return, the audience got to discover the hidden aspects of the Brantley's experiences, from attending Gloria Vanderbilt's lavish parties, to receiving an unexpected present.
For Brantley, his "person" was Gloria Vanderbilt, heiress and maven, who, during the late 70s and early 80s, had a large presence in New York high society. "[Vanderbilt] worked at Women's Wear Daily (WWD) right out of college. She had ambition and wore it nakedly in New York," he said.
At WWD, he was allowed access to Vanderbilt's exclusive parties and he was given the opportunity of contributing to one of the most powerful publications of the time. "Naked ambition came more clothed at these parties; no one gives someone else their card at a Gloria Vanderbilt party," Brantley said. "She was one of the [greatest] fantasists I've ever known, and turned [her world in] to this kind of glamorous cocoon."
According to Brantley, Vanderbilt embodied a mystery suffusing light. "At her parties, no one was ever really disgusting," Brantley recalled. He summed up his observations with the following: "Your fantasies of anywhere can exist if you have the right fantasist." Cohen said that this was a beautiful way of honoring, and the audience seemed to agree.
"Where's your place?" Cohen asked. According to Brantley, it was The National Theater in London. "In London, I have a much more intense schedule…watching 10 to 12 plays a week, yet I still feel so comfortable at the National Theater," he said. "I had the platonic idea of the university that I wish I gone to; all the theatre buffs were hanging out… on the [proverbial] campus quad."
"The standards of production [at the theatre in London are] so high; it was difficult attaining that level of production on Broadway," he said. "Theater as a religion probably exists more in London than in New York… [because] theater for so many people here is an occasional thing."
Brantley pointed out that New York's Broadway is closer to an entertainment center like Las Vegas. "Broadway is in the importing business," he said. "It is easier to repurpose already established productions. However, there is still hope for Broadway – there are holes in the walls where some really talented people throw things together."
According to Brantley, his "thing" is a framed $100 bill, that he received after a production of the musical version of "The Producers." In a review, Brantley "wrote [with expansive] hyperbole…"and, he added with a laugh, "metaphors involving bonfires!" With a nod to a scene in the play, he got sent the $100 bill in the mail after his loving review. "I made a matching donation to a charity directly after," Brantley said, as the audience replied with a hearty laugh.
To finish off the show, Brantley gave some hope to students in the room. He explained that his job, which had always represented an unattainable dream happened through strange and esoteric ways.