Torture and American Culture Part 1: Popular Culture
Published: October 30, 2008
On Oct. 21, Fordham students and faculty members joined individuals from other New York City schools to attend the two-part forum, "Torture and American Culture: An Inquiry and Reflection" in McNally Amphitheatre at Fordham College at Lincoln Center (FCLC). Over 70 people were present at the first session, which examined torture in popular culture and focused on TV shows.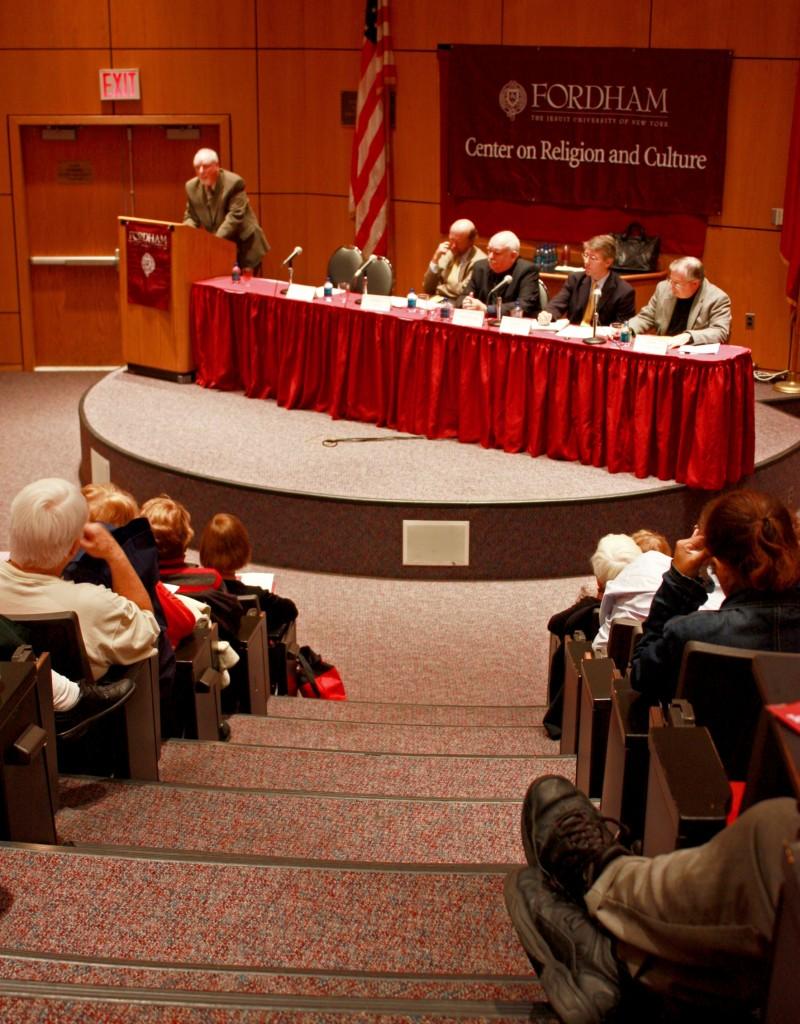 Margaret Steinfels, co-director of Fordham's Center on Religion and Culture, opened the forum by mentioning the behavior of American military personnel and civilian contractors regarding torture in recent years. She said that the photographs of Iraqi prisoners being tortured at Abu Ghraib, the prison made infamous by Saddam Hussein, shocked the world when it revealed the torture and abuse in which American military personnel engaged.
"In 2003, Abu Ghraib was taken over by American forces to hold prisoners captured in the aftermath of our invasion," Steinfels said. "Since then, Americans and the rest of the world learned that abusive torture was considered the secret policy of the Bush Administration." Such instances of torture are prohibited, according to the Geneva Conventions, the Army Field Manual and U.S., as well as international, law.
According to Steinfels, the Abu Ghraib incident made the international community begin to question American culture and our liberal use of torture. "What we don't know fully yet is how these practices were adapted [since then] and whether they have actually been brought to an end," she said.
Bill McGarvey, editor-in-chief of Busted Halo, an online magazine, served as the moderator. Steinfels acknowledged that McGarvey was especially suited to this role, given the fact that he is a singer and a songwriter and is knowledgeable of popular culture.
David Danzig, the director of Human Rights First, an international rights group based in New York City, said, "My goal [post-Abu Ghraib] really was to reach out to retired generals and admirals and other senior military leaders to see what their views were about interrogation and torture and how we should go about getting out of this mess." Danzig noticed many of the conversations held at Human Rights First with senior military leaders echoed their frustration with what they saw happening at Abu Ghraib and what they feared was happening in other places. Danzig said, "[The senior military leaders] didn't think that the use of torture was a military necessity; in fact, they thought using torture was an ineffective means to get information out of so-called terrorists."
Danzig showed a brief video called "Primetime Torture Interrogation: What Works, What Doesn't and How It's Portrayed on TV." This video explained how characters on popular television shows such as "Alias," "Lost" and "24" use torture to get life-saving information out of terrorists. A clip from "24" showed the protagonist, Jack Bauer, staging the death of a terrorist's son in order to receive crucial information from him. Bauer was then praised by the president in the show and, according to Danzig, idolized by fans.
Joseph Corbisiero, FCLC '12, said he feels that torture is immoral. He said that he is a fan of "24," but feels that the torture on the show is "over-exaggerated."
After the film, the panelists discussed the link between popular culture and torture. Danzig said, "The whole idea that torture might work in these scenarios is completely absurd." Richard Alleva, a film critic for Commonweal magazine, said that "torture is glamorized in works of entertainment and drama," since information seems almost too easy to receive through acts of torture and abuse.
Todd Gitlin, a professor from Columbia School of Journalism  and the author of "Media Unlimited: How the Torrent of Images and Sounds Overwhelm Our Lives," said he thought that potential interrogators should see the film screened at the forum because it could be an informative lesson to people who are actually in a position to interrogate.
Jossy Joute, an undergraduate at Lehman College who attended the forum, said that she feels the term torture is used "too leniently" in our culture and is made to seem  "not as serious" as it really is.
Brittany Curtis, a high school senior from the Convent of the Sacred Heart, said, "I never thought about how much torture was shown in the media… and it just occurred to me [after watching the short film]."