Jacqueline Reich Talks Italian Films in New York City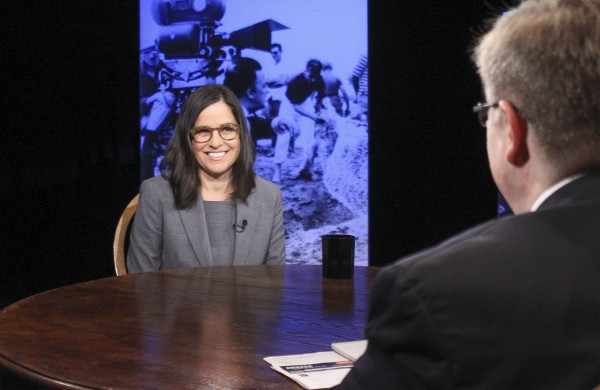 With an upcoming television appearance and several book releases, Fordham Chair of Communication and Media Studies Jacqueline Reich's involvement in film academia is quite obvious. However, what stands out most about this scholar is her fascination with Italian cinema. 
On Saturday, Oct. 11, Reich is set to appear on CUNY Television's "City Cinematheque" program, which screens a film and follows the screening with a discussion by film scholars and professionals. Reich will be talking about the prominent filmmaker, Roberto Rossellini, and his 1945 film "Rome, Open City." In fall 2015, Reich will be releasing two more books regarding Italian cinema, entitled "Male Stardom, Italian Style" and "The Maciste Films of Italian Silent Cinema." 
According to Reich, her active involvement and interest in foreign film stemmed from growing up in New York City. "My parents would always take me [to] the movies," Reich said. "I remember going to double-features on weekends with my father. 'The Maltese Falcon' and 'Casablanca,' 'Small Change' and 'The Red Balloon,'" she said. "I've always been a big film fan, and I knew I wanted to be a professor, so I just combined my interests and now I do what I love."
 Reich's passion for Italian films then led her to become a scholar in Italian Cinema. She later went onto receive a doctorate in Italian Literature from the University of California, Berkeley. After teaching at Stony Brook University for 18 years, Dr. Reich came to Fordham in 2012.
 On considering the availability of film in NYC today, Reich still said there are countless opportunities for both domestic and foreign, old and new films but claims that the locations to see a wide array of films has shifted. "The museums have really picked up the slack. Venues like The Museum of Modern Art, The Museum of the Moving Image, and The Film Society of Lincoln Center, always have terrific viewing opportunities, events, retrospectives and festivals."
When asked about the differences between current Italian and American cinema, Reich said, "The major difference is that Italy's film industry is state-subsidized, as are many foreign film industries, and has experienced drastic budget cuts. Also, there just aren't enough movie theaters in Italy anymore. American movies have largely taken over foreign markets." She quickly searched the Italian box office statistics for 2014, which revealed that only one film in the top 10 grossing films is an Italian production (it's just number nine).
 For Reich, television has proven more interesting. "Television is more able to play with formulas, codes and conventions that many films still follow. While TV is also very high budget, films are primarily concerned with the bottom line: making money." she said. "I just had a four-episode 'True Detective' binge. I'm very excited to welcome back 'Homeland,'" Reich said.
According to Reich, the best movies of the last five years have all come from Pixar. "Pixar has been so innovative, while still adhering to formulas, and seems to have the most creative freedom nowadays." When asked to name her favorite films, Reich laughed and said, "That is a very difficult question. But if I close my eyes, the films that immediately come to life are 'La Dolce Vita' 'Goodfellas' and anything with Cary Grant."
 This semester, Reich is teaching Intro to Film at Fordham College at  Rose Hill (FCRH). Reich has recently released her first book, "Beyond the Latin Lover: Mastroianni, Masculinity and Italian Cinema," and has already published numerous academic articles and reviews which relate to Italian films, gender and stardom.