Peter Casts His Net Over FCLC Again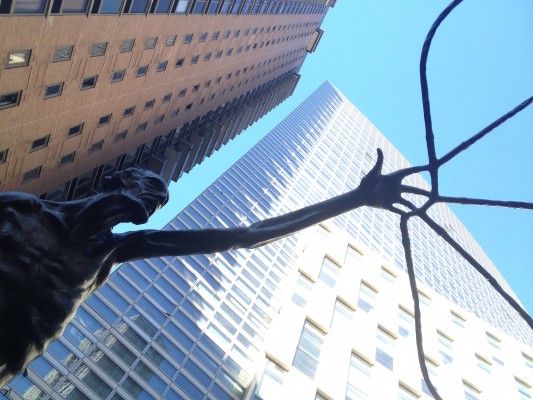 Standing tall against the backdrop of the new Fordham Law School building, "Peter the Fisherman" casts his net over Robert Moses Plaza, his net reaching across to Lowenstein and beyond.
Designed by Frederick Shrady, "Peter the Fisherman" was installed on the lower plaza, where the new law school building is,  in 1970, according to Rev. Robert Grimes, S.J., dean of Fordham College at Lincoln Center (FCLC). Originally, the statue stood over a reflecting pool, but the pool was later removed during the renovation of the plaza in 1993. 
"'Peter the Fisherman' has always seemed to me to be a symbol of the Lincoln Center campus. When the plaza was all concrete and cold, Peter was the one thing that gave it life," Grimes said. "After the 1993 renovations, when it was surrounded by weeping willow trees, it was the most beautiful and relaxing of places on campus."  
"Peter the Fisherman" was removed from FCLC because of the construction of the new law school, but was returned to in September of this year. 
"I'm glad to see him back as we enter a new era of Fordham at Lincoln Center," Grimes said. Shrady is a sculptor known for his religious art work, including a statue of "Our Lady of Fatima," commissioned by Pope John Paul II.