University Choir to Perform on Good Morning America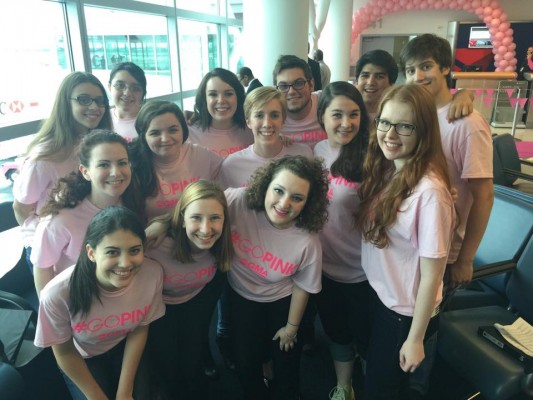 In honor of the beginning of Breast Cancer Awareness Month, the Chamber Choir at Fordham College at Lincoln Center (FCLC) will record a performance for the Oct. 1 episode of ABC's  "Good Morning America."
Members of the choir will be travelling to John F. Kennedy airport, where they will greet a group of breast cancer survivors being flown in for the live taping of the show on Wednesday. They will perform a rendition of Marvin Gaye and Tammi Terrell's "Ain't No Mountain High Enough."
Taylor Palmer, FCLC '15, the president of the Choir, said that she was approached by a Fordham student working at ABC Studios about the performance. "He had heard the choir sing and knew we were up to the task," she said.
Palmer worked with choir director Robert Minotti and another choir member in order to secure the plans for the performance. The singers have rehearsed the song in four-part harmony and will sing the song a capella, and the recorded performance will be aired during the live show on Wednesday.
All ABC News shows and segments airing on Oct. 1 will be dedicated to educating viewers about breast cancer, which is the second most common cause of cancer-related deaths among American women. Two of the current "Good Morning America" anchors, Robin Roberts and Amy Robach, are breast cancer survivors who have been strong advocates for breast cancer research, education and prevention.
Wednesday's "Good Morning America" episode, entitled "GMA Goes Pink," will give information on prevention and treatment for breast cancer. Dr. Kristi Funk, physician to Angelina Jolie, will appear on the show to talk about the latest medical advancements that have been made regarding breast cancer, and Smokey Robinson and Aloe Blacc will also give musical performances.
"The reason for [our] performance is to honor women in general but also specific individuals who have battled breast cancer," Palmer said. "[The song] was selected by ABC to commemorate their strength and inspire those fighting."
Palmer is enthusiastic about being able to devote her musical talents to such a meaningful event. "Personally I have never done anything like this before so I am simply excited to be part of this important and inspiring experience. I know it is an amazing opportunity and I want to soak it all in and sing with my friends for a worthy cause," she said.