Post-Pageant with Miss Connecticut Acacia Courtney, FCLC '15
Miss Connecticut, Fordham College at Lincoln Center (FCLC) '15 Acacia Courtney was selected Sept. 14 as a top 15 finalist in the annual Miss America pageant. Courtney has been involved in the Miss America Organization since she was 15 years old and is "honored and proud to have participated in the competition," she said in a post-pageant interview.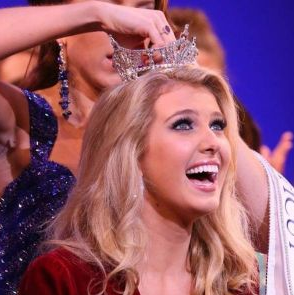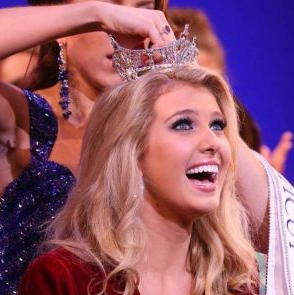 "It's a very weird feeling now that everything that you have been working for so many years is over," Courtney said. "It was such an incredible experience and I am excited and ready to take all the experiences that I learned in the last couple of weeks and carrying those on through out the rest of the year."
She remembered feeling calm the weeks prior to the nationally broadcast pageant despite having to constantly be ready to go to promotional events for the Miss America Organization and being the title-holder of her state. She arrived in Washington D.C. on Sept. 1 with 52 other contestants and later, on Sept. 3, Atlantic City, where the competition took place.
"The most memorable experience was actually the first night of preliminaries," she said. "I was looking and seeing the crowd there for the first time and being able to be on stage and say I am 'Acacia Courtney Miss Connecticut,' was an incredible honor. I also ended up getting a little bit emotional because that was the moment that it really hit me – I had made it to Miss America. You're more likely to have a son play in the Super Bowl than you are to have a daughter compete at Miss America."
Courtney will have her title as Miss Connecticut until next June, a role that she will be doing full-time while she postpones her last year at Fordham. She will also not be competing in any more pageants in the meantime, a decision she took to further dedicate herself to her new role. Next month, she will be turning 22 and competing in Miss America was as big as it gets, she said.
As Miss Connecticut she will spend time speaking in schools about her personal platform, The Monday Campaigns: A Guide to a Healthier World, a campaign that promotes the conversation of approaching a healthier state of living. Her primary target is children in kindergarten to eighth grade.
"There is a disconnect between the farm and the plate, and much eating has become mindless," Courtney said in a follow-up email. "My goal is to encourage them to get excited about health at an early age and place more emphasis on the relationship between diet and exercise."
"Scholarship is one of the 'four points' of the Miss America crown, and Miss America is an ambassador for education and empowerment," she further stated in the email. "I'm so proud of my Fordham education and that background has helped me in pageantry, and in life, because it gives me credibility."
The decision to go to Fordham was in large part because of the University's Jesuit education and its emphasis on giving back to the community through service, Courtney said. As well as being a speaker for the Monday Campaigns, she is president of Racing for Home, a nonprofit organization that gives a second home and chance for retired Thoroughbred racing horses.
"The sense of community at Fordham has shaped me as a person and has introduced me to new ways of thinking in my advocacy work," Miss Connecticut said.
The Miss America competition might be over, but she said she will always remember the sisterhood formed with the other contestants as very special.
"There are a lot of stereotypes of the women who compete in pageants, but I am proud to say that the group I competed with this year is doing a lot to break those stereotypes, may it be through the work they speak or work for, and be a part of the new women leaders of tomorrow," Courtney said.