College Council Discusses Gabelli Representation and Faculty Space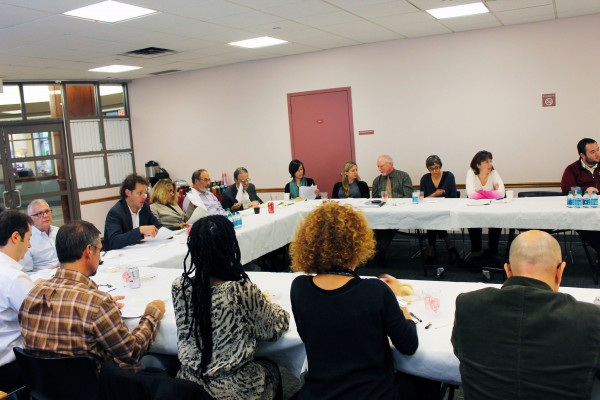 The first College Council meeting of the 2014 – 2015 academic year was held on Thursday, Sept. 25 in McMahon 109 at 12:00 p.m. at Fordham College at Lincoln Center (FCLC). The meeting addressed the question of whether or not there should be a representative from the Gabelli School of Business at Lincoln Center (GSBLC) on the council while also discussing the closure of the faculty dining hall at FCLC.
Rev. Robert R. Grimes, S.J., dean of FCLC, brought up the question of whether members of the council thought that there should be a faculty and a student representative from the Gabelli School of Business (GSB) on the FCLC council.
Hector Lindo-Fuentes, professor of history at FCLC, suggested having someone who served as a liaison from the business school. Janis Barry, associate professor of economics, said that it would be better if it were to be a faculty member from Gabelli rather than an administrator.
Grimes made a motion for there to be a non-voting faculty member appointed by the business school to be a liaison on the College Council and the motion was approved by the members.
Consequently, a motion was made by Grimes for an additional student voting member representative from the business school to be appointed by United Students Government (USG) and there can be no more than two student members from the business school on the council at any time. This motion was also approved by the members of the council.
Members were asked if there were any matters that they wished to discuss and Assistant Professor of Mathematics, Leonard Nissim, brought up the closing of the faculty dining room. Grimes suggested that the council take a motion to ask Sodexo to poll the faculty on possible venues.
In regards to the closing of the faculty dining room, Barry said, "This is a generic condition that goes along with employment. I think it is an outrage that uptown they have a faculty dining hall…I think that this goes beyond College Council and Faculty Senate should dig into this." Associate Professor of Communications and Media Studies, Gwenyth Jackaway, said "Let's say they do this survey, it doesn't guarantee they will do anything about the results so we should build in that they should respond, some action plan needs to be built in."
Grimes suggested that someone from Sodexo be brought into the next college council meeting.
During the meeting, Grimes also made announcements in regards to the freshmen class. According to him, there were 12,334 applicants to FCLC and 488 enrolled, with the number dropping to 479. Two-thirds of the class is female and one-third male. In terms of states, New York State is the leading feeder state, making up 13 percent of the Class of 2018, with 25 percent being from New York City. Other feeder states include New Jersey, California, Connecticut, Pennsylvania, Arizona, Texas, Florida and Illnois.
15 percent of the class of 2018 are international students, with some attending high school in the United States but claiming citizenship in their country. 71 percent of the class are residents and according to Grimes this "does not mean that the student body is significantly different," but that students that may have requested housing in previous years and denied are residents this year.
College Council will next convene on Thursday, Oct. 16 at 11:30 a.m. in the South Lounge.