Fordham Ranked #58, Students Don't Mind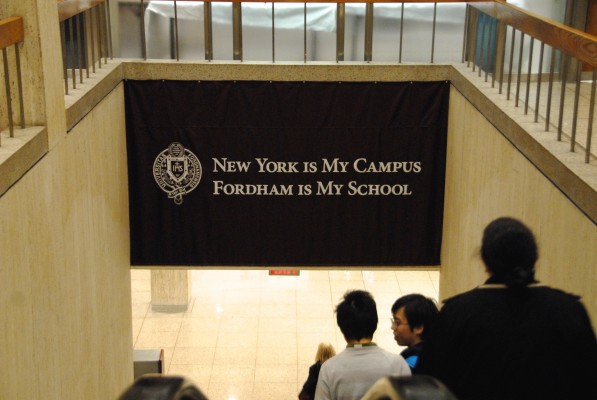 Despite Fordham University's drop to  58 in the U.S. News and World Report's rankings, some students at Fordham College at Lincoln Center (FCLC) find the ranking system an unreliable measure of the University.
Amanda Lee, FCLC '17, thought that the drop in rank probably has to do with the school's perceived academic standards. Lee said, "The school is good, but even though I'm busy, I don't get really stressed about my work. That's a reflection on the school itself." Feedback like this can, in fact, have at least a small effect on the rankings, since a peer assessment survey counts for around 15 percent of a school's score.
According to the U.S. News and World Report, the ranking system is based on two sections, using "quantitative measures that education experts have proposed as reliable indicators of academic quality." After schools are categorized, data is "[gathered] from each college on up to 16 indicators of academic excellence," which are each assigned different weights by how much the magazine thinks they matter. These include student selectivity, financial resources, and graduation rates, among other things.  
Ife Adelona, FCLC '17, and Ian Schaefer, FCLC '17, agreed that the rankings did not matter. Adelona said, "When looking at the rankings, it doesn't really specify which campus they're ranking, so I didn't see how I could be getting the true score. I didn't trust them that much." She added, "It didn't affect my choice, since Fordham was my no. 1" 
Schaefer echoed Adelona's words. "I didn't look at the rankings while I was looking for schools," he said. "I don't think that it matters, though," he continued. "I think that school, no matter what, is what you make it, and this school has many great resources for us, just as many as my friends that go to Yale have." 
Columbia University, also in New York City, came in at a tie for no. 4 this year, with a score of 95 buoyed by a high school counselor score of 4.9 out of 5 and 6:1 student to faculty ratio, but only has a 10-point higher freshman retention rate than Fordham.  New York University defended its position as no. 32 for the third year in a row, but only has a slightly higher six year graduation rate than Fordham, 84 percent versus 80 percent. 
Among Jesuit universities across the country, Fordham ranks high, competing with the likes of Boston College, no. 31 in the same category and Georgetown University, tied for no. 21. 
Josh Hall, FCLC '18, utilized the rankings during his college search only loosely, and said, "I only paid enough attention to the rankings to categorize schools. The rank didn't matter."