Students Campaign for Gubernatorial Debates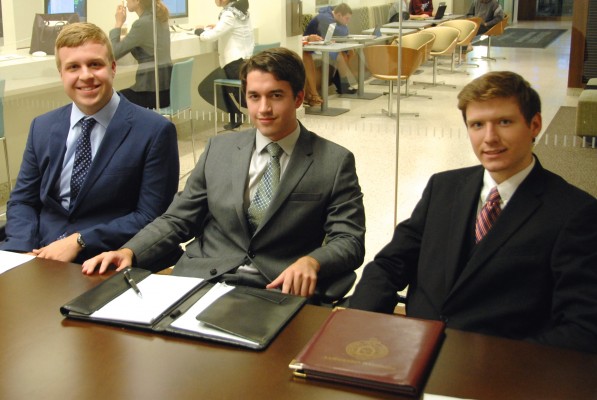 Regardless of who wins or loses come Election Day, the governorship will still belong to Fordham University. Incumbent Andrew Cuomo, Fordham College at Rose Hill (FCRH) '79, and Republican challenger Rob Astorino, FCRH '89, both call Fordham their alma mater. A group of students are capitalizing on this to bring Fordham into the spotlight. 
Thomas Samuelson, FCRH '16, Evan Swager, Gabelli School of Business '16, and Thomas Roemer, GSB '16, have begun campaigning for the gubernatorial debates to be held at Fordham. 
The idea came to Fort Worth, Texas native Samuelson last spring, as he was researching the upcoming gubernatorial race. "I was going through the biographies of all the possible candidates, and all of them are Fordham people," he said.
Samuelson tapped roommates Swager and Roemer to join his efforts. When the President of the United Student Government (USG) at Rose Hill agreed to the idea of hosting a debate on campus after Samuelson pitched it, the campaign began in earnest.  
Though all three students were in and out of New York during the summer, the task of setting the wheels in motion was divided amongst them. "We were able to divide our workload and make this a big idea, instead of making it a pipe dream," Swager said. 
A long email was drafted and sent to Rev. Joseph M. McShane, S.J., president of Fordham, and the next day, Samuelson's phone rang. "The morning after, I get called in the middle of class, and I couldn't tell who it was, so I just hung up," Samuelson, who was taking summer classes, said. McShane was also on board and directed him to speak with Vice President of Administration Thomas Dunne. They were both open to the idea and contacted the Astorino campaign.
But what would it take to actually get the debate on campus? "We came to the conclusion that you have to have four parts: You need to have both of the contestants, the Administration, and the media," Samuelson said. 
With one contestant and the Administration on board, the hardest to convince has been Cuomo, mostly because, prior to the primaries he had stated he had no intention to debate. "For a while, we had given up hope," Samuelson said. The campaign seemed to be hitting a dead wall. 
It was only after he won the Democratic primary against Fordham Law School (LAW) Professor Zephyr Teachout did he change his stance. "I believe we'll have debates," Cuomo said when asked if he'll debate Astorino. "The campaigns have to work them, but I believe we'll have debates."
Swager intends on cold calling local New York television stations before enlisting the help of professors, advisors and students with connections in the industry, in hopes that he can cultivate some interest first. "I honestly have no idea what that's going to be like, and based on the reception we get we will see how we want to use our contacts." 
The Administration and faculty have been "willing to work with us on it," Samuelson said about the Center for Electoral Politics and Democracy's Director Costas Panagopoulos, Ph.D. 
Though the Administration cannot officially invite the candidates to partake in a debate on campus because of the University's nonprofit status, "we passed a resolution through Rose Hill's USG that we will be extending the invitation through that vehicle, to show that it's from the students and not from the Administration," Roemer, a USG representative, said. 
If a debate were to happen on campus, Swager said it would most likely take place in the new Law School building at Fordham College at Lincoln Center (FCLC), if the space were available. "The new law school seems both appropriate because its new and fancy and because it should have all the things we need both in capacity and hosting capabilities," Swager said. 
The team hopes to enlist students in a variety of ways. "We're going to need all the students that we can get," Samuelson said. "What we hope to do is get a ton of signatures and send it in with the invitation [to Cuomo]. You can't exactly deny thousands of students from your alma mater. Once you get the media on it, the pressure is on." 
The most valuable thing students can do is sign petitions. "We're hoping to get at least 3,000 signatures, which would be about half the undergraduate student body, and that would send a strong message to the Cuomo campaign that we really mean business and that the Fordham community really supports this," Roemer said. 
Swager is hoping to connect with clubs and enlist their help in collecting signatures. "Through USG, through CAB, and all the other clubs we have, we can reach students that way by having them sign our petitions or voicing their own support," he said. 
Why is Fordham the right place for a debate? "It's perfect neutral ground," Samuelson said. "What's more neutral than the place you called home for four years?" 
Not only would a debate on campus be good for Fordham, it'd also be smart for the candidates. "You'd be bringing attention to a community in the Bronx that is traditionally underserviced and that would be something that both candidates would be looking to do," Roemer said.
"It's the perfect opportunity for Fordham to show our greater promise and rising excellence," Samuelson said, "in pretty much all fields, especially politics."
Like "Campaign to Have Governor Debate at Fordham" on Facebook, follow @FordhamGUB on Twitter, or sign an online petition to show your support.
STAFF EDITORIAL: An Open Letter to Governor Cuomo and Rob Astorino: Come Debate at Fordham.