Next and the City: Weeding Them Out, One Tinder Date at a Time
The challenge: Make a Tinder profile, talk to guys, go out on dates with said guys, and then write about it. Challenge accepted.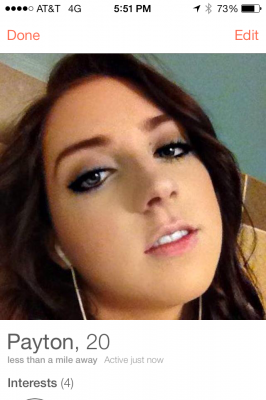 Tinder, if you don't know, is a matchmaking app. It asks you to connect through Facebook, so that they can use your profile picture and age. Then, it uses your location to find "interesting" people near you; their pictures, along with names and age, pop up on your phone. If you like the photo, you swipe right; if you don't, just swipe left. If the person likes you back, you get notified and—congratulations, it's a match! Yay, you both find each other attractive! Now you are able to message your match and get to know more about them. 
I was initially intrigued by this idea because my friends and I had recently come to the conclusion that dating is dead. It seems as if our generation just doesn't date, at least not in the traditional sense of the word. I thought this would be the most normal dating experience I've ever had. The romantic dinners always seem to come later, after I've already established a relationship with a guy. I've never gone out on a real getting-to-know-you-date before. And to be completely honest, I thought that as a transfer student in a new city, this would just be a good way to get out and meet people. I really didn't have anything to lose so why not give that little red flame a chance?  
The more I thought about it, the more excited I got. I made my account, and started liking the guys I was attracted to (even though I felt bad about being so superficial). Getting a match, I'm ashamed to admit, is also kind of gratifying. I'm not going to lie; it does make me feel a bit more confident. (Okay, maybe I am a little superficial. Whatever.) 
The problem is that Tinder is not officially a "dating" app. If you download it looking for a relationship, you may be disappointed. There are plenty of men—and women—who are very clear they are only looking for hookups. The first day I downloaded the app, I was messaged by a match who's "About" section read: "Girlfriend and I are looking for a threesome." Umm, no thanks. Just be careful.
By far the most common opening line is "Hey :)"—very original. Those ones usually don't receive a response, unless the guy is really cute. (Fine, I definitely can be superficial. Sue me.) The odd thing is, I'm almost immediately asked for my phone number. Can't we talk on Tinder for a while? Is there some big rush for my digits?
I've been using Tinder for about two weeks and I think I've managed to find a couple of decent guys; I've also found a couple of assholes. One guy called me and the first question he asked was about my height and weight—at least I'm not that superficial (and rude). But I have my first date this week and I'm thinking it could be good. I'll let you know.