Workers Protest Violations at FCLC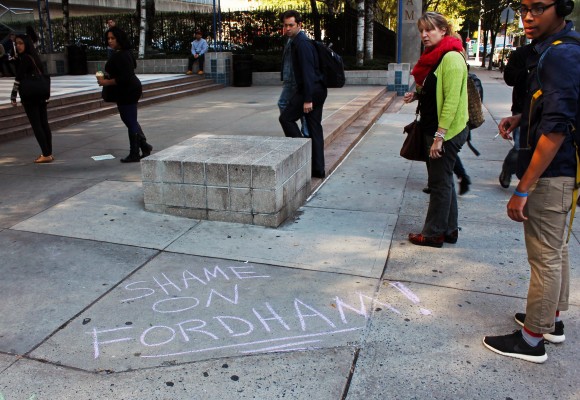 Construction workers gathered outside Fordham College at Lincoln Center (FCLC) on the morning of Tuesday, Sept. 23 to protest workers' rights violations. A union rat was inflated in front of the Ram Van stop on West 60th Street, and chalk signs saying "Shame on Fordham" and "No worker deserves to be exploited" on the corner of West 60th and 9th Avenue.
According to Jason Delgado, a Local 79 Laborers Organizer, the goal is to educate the student body, staff and public that Fordham University is helping to exploit construction workers through the employment of Red Ball Contracting. The protestors hope to gain the discontinuation of contractors who exploit workers.
"Fordham University is allowing Red Ball Contracting to exploited [sic] construction workers at their NYC campus," the leaflet states. It furthered, "Untrained and unskilled workers lead to an unsafe workplace, shoddy workmanship and a lower quality finished product."
"Many construction contractors that exploit workers are notorious for paying workers off the books to save money on workers comp insurance, pay roll taxes, skimp on safety and other issues to undercut the honest contractors that follow the law," the leaflet reads.
"There appears to be a dispute between this small contractor (Red Ball) and the union, in which Fordham is neither involved nor has knowledge of. There is absolutely no evidence that any workers on University projects are being exploited," Robert Howe, senior director of communications, said in an email. "It appears that the union is trying drag the University into the dispute with the contractor to strengthen its (the union's) negotiating position."
The leaflets urge passersby to contact Rev. Joseph M. McShane, S.J., president of Fordham University, and "tell him that all workers deserve a living wage."
According to Howe, the University has just completed the "$250 million dollar construction of the new Law School and Residence Hall, all of which was done with union labor."