People's Climate March: A Short Journey for an Enduring Cause
"Hey Obama, we don't want no climate drama" was the chant that echoed through the Upper West Side early Sunday afternoon. Armed with colorful posters, men and women of all ages made their way from 86th Street by the National History Museum all the way down to 34th and 11th Avenue for this year's People's Climate March.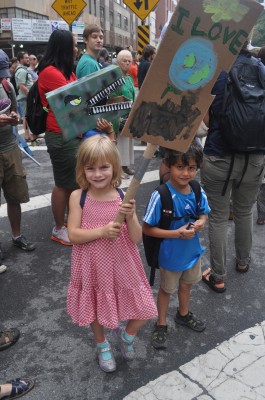 The People's Climate March is a procession of various social activist groups, schools and churches that rally and raise awareness for the pressing issue of climate change in New York City and around the world. According to their website, leaders behind the march declare, "We are demanding the world we know is within our reach: a world with an economy that works for people and the planet; a world safe from the ravages of climate change; a world with good jobs, clean air and water, and healthy communities."
The March itself was divided into six subcategories for members of different groups to congregate at particular locations. The sections ranged from, "To Change Everything, We Need Everyone" for LGBTQ, NYC Boroughs, Community Groups, Neighborhoods, Cities, States, Countries & more at 86th Street, all the way to "Frontlines of Crisis, Forefront of Change" for Indigenous, Environmental Justice and other frontline communities at 65th.
The march attracted a vast amount of participants, blocking off many cross streets and creating buzz at every corner on Central Park West. Posters, costumes, and banners articulated powerful sayings such as "We Will Not Die Quietly" and "Imagine This Street Underwater."
Participants ranged from elderly men and women to adults, college kids, and small children holding signs in their baby carriages. The walk also held a moment of silence at 12:58 p.m., and followed up with cheers shortly after, while walking by the huge HD screen that sat adjacent to the Columbus Circle Globe at 59th Street.
This March represents a great turning point for the awareness of climate change and leaves a very poignant message of the importance of protecting our Earth for generations to come.
To follow up and recap the event, follow the hashtag #peoplesclimatemarch on Instagram and Twitter. For more information and to learn more about the cause, check out their website, http://peoplesclimate.org.