Miss Connecticut Acacia Courtney, FCLC '15, Goes for the Big Crown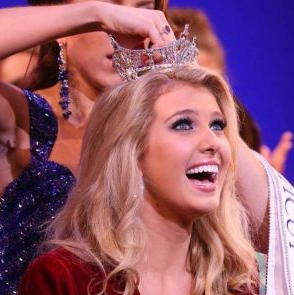 Who will be crowned Miss America 2015? Every year, 53 contestants, one from each state as well as the District of Columbia, the U.S. Virgin Islands and Puerto Rico, are chosen to compete for the title.
Acacia Courtney, FCLC '15, is competing in this year's pageant as Miss Connecticut. The 21-year-old is a communications and media studies major and theology minor, and was raised in Hamden, Connecticut.
She was previously a 2009 Miss Connecticut Outstanding Teen and is founder and president of Racing for Home, a non-profit organization whose mission is to give a second life for ex- Thoroughbred racing horses. Amongst other things, she is also a speaker for The Monday Campaigns, a non-profit movement dedicated to bringing the public an awareness on health.
Courtney will perform on stage ballet en pointe as her talent. The 2015 Miss America Pageant will be broadcast live today on ABC at 8 p.m. eastern.
Stay tuned for an post-pageant interview with Courtney at The Observer.