Iggy's Voice Is No Biggy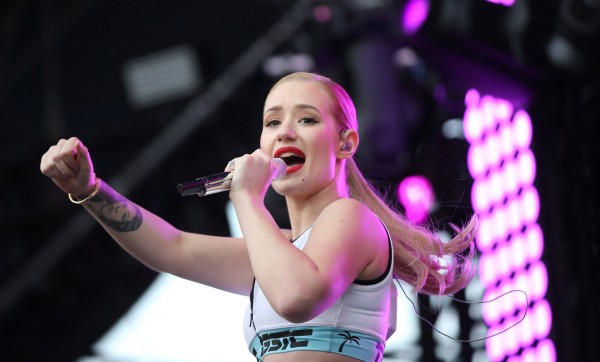 Without a doubt, Iggy Azalea was the biggest name in music this past summer. Her mega single "Fancy" reached number one on the Billboard Hot 100 chart and her guest appearance on Arianna Grande's "Problem" allowed her to occupy the number two spot as well. However, Azalea's rise to the top has not been without criticism. Many claim "inauthenticity" whenever she appears on a song because her Australian accent gives way to a southern twang, which appears strikingly (but not exactly) similar to southern rappers such as T.I. But is this argument fair?
Iggy Azalea was born Amethyst Amelia Kelly in Mullumbimby, New South Wales. At an early age, she found herself as the outsider because of the way she dressed, leading her to be on the victim side of some unfortunate bullying. This exclusion runs analogous with the creation of Hip-Hop. The early pioneers of the genre are citizens of one of the most marginalized communities in America, the South Bronx. Nevertheless, the detachment felt by these figures inspired them to create one of the most popular genres of music to this day. It was only a matter of time until the outcast girl in Australia met a genre of music formed by America's outcasts. This encounter occurred when Iggy heard "Baby Don't Cry" by 2Pac and The Outlawz, and the rest is history.
She then decided to pursue a career as a rapper in America. After time in Miami, Azalea next traveled to Houston, where she began to get "good at rapping." The assumption then could be made that Azalea's rapping voice sounds a certain way because she learned the technique in a location that has a distinct sound. However, this conclusion is too simplistic and does not give her enough credit as an artist.
When an artist sets out to create a song, he/she has a purpose. In order to achieve this purpose, he/she has many tools at his/her disposal. One of these tools is the voice. How a musical artist sings/croons/raps his/her lyrics is just as important as what he/she is saying. This is why we praise Beyonce's "Love on Top," but condemn our Uncle Frank's cover of the popular 2011 song. In Hip-Hop, however, the delivery of lyrics is often undervalued, especially when compared to the lyrics themselves. Fortunately, the rapper's voice in Hip-Hop has recently emerged as a powerful device and Iggy is a part of this movement.
Kendrick Lamar's 2012 major label debut, "good kid, m.A.A.d city," is an important piece in this cultural shift. At different points in the album, Lamar's inflection changes to fit the theme of the respective song. For instance, on "m.A.A.d city," Lamar details the horrifying reality of growing up in Compton, California. For this song, he raps at a frantic pace while utilizing a terrified voice in order to completely illustrate the frightening nature of his hometown. This voice differs from his speaking voice and the voice he uses for other songs on the album such as "Swimming Pools." If Lamar can alter his voice why can't Azalea? Whenever she appears, she exudes a confident, forcible voice. This is clearly on display on "Fancy,"a song where she boasts about just how great she is. The boldness of her voice matches the boldness of her lyrics, allowing Azalea to effectively convey to the listener the extent of her fanciness. Her voice here differs from her other songs such as "Rolex," which supplements the style established on "Fancy" with an angry tone. Where's the inauthenticity in this?
The "inauthentic" argument has generally been directed at a Hip-Hop artist's lyrical content. For example, Jay-Z has chastised rappers for rapping "about guns they ain't shot." Does this critique then hold up against Iggy? On "The New Classic," Azalea only raps about actions that she has performed. For example on "Work," she recounts her journey from scrubbing floors in Australia to reaching number one on the charts. However, not once on the album does she rap about subject matter she does not have knowledge on.
"Fancy" and "The New Classic" demonstrate Azalea's ability to rhyme and flow with the best of them. There's a reason why she was chosen as the first female to be apart of the XXL's Freshman Class (Class of 2012), a compilation of rappers to be on the lookout for. Condemning her for employing a voice to execute the purposes laid out in her music is miscalculated. That's not to say she should always use this one vocal style. Rather, she should remain conscious of her music's themes and use her voice accordingly. Maybe somewhere down the road listeners will hear an "authentic" Australian rap.