Kings of the Hill: A Preview of Fordham Football 2014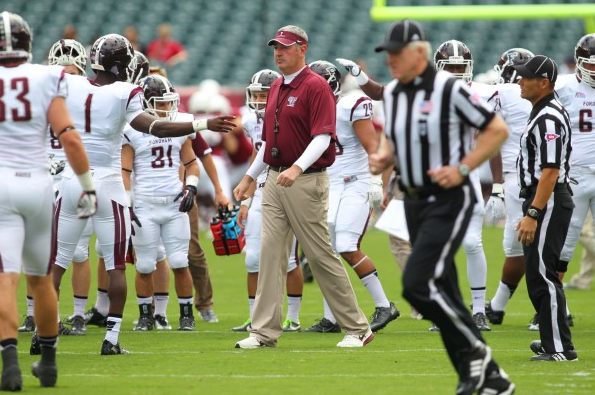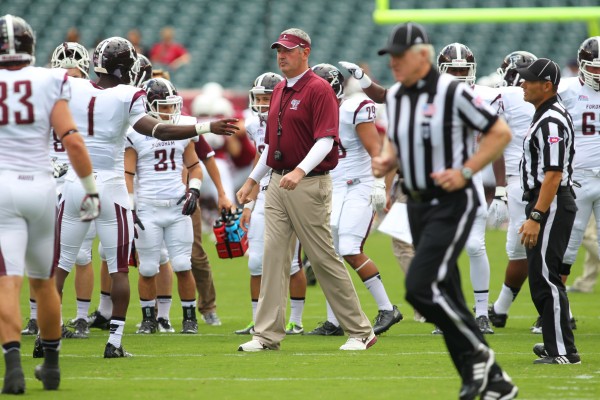 Although the team lost in the second round of the FCS playoffs to Towson, one would be foolish to call the 2013 season for the Fordham Rams anything less than a success.  The team improved dramatically by six wins and began the season 10-0.  Years like this come with increased admiration and respect for teams and their regimes.  Coach Joe Moorhead and his players, as shown by their unanimous number one ranking in the Patriot League preseason poll, have been praised and acclaimed for all of their achievement last season.  Now with all sanctions removed, Fordham is poised to bring a Patriot League championship to Jack Coffey Field.
The relatively short two year transition from the 1-10 basement dwellers to the dominant unit we see today has been staggering, but this season will be the first true test of Coach Moorhead's regime.  When he inherited this team, no one could have expected this exponential improvement, even with the advantage of Fordham having players on athletic scholarship.  At any level of sport with any personnel, the degree of difficulty in designing and installing a system that succeeds normally leads to a long arduous process, yet Moorhead and his staff developed a winning culture at Rose Hill almost immediately.  His first season created a foundation for which to build on, and the following year established Fordham as not only a team to take notice of, but also as a force to be reckoned with.  2013 was unprecedentedly exceptional, but this team showed it can be more this season than an "at-large" bid for the FCS tournament and a second round exit.
Perhaps more importantly than earning a "team to beat" status, the Rams will be once again eligible to compete for the Patriot League title.  Due to being the first team in the league to allow eligible students to receive athletic scholarships in 2010, Fordham has been ineligible to compete for Patriot League championship, and the automatic playoff bid this championship entails, since 2009.  Over previous seasons, the team had been allowed to compete against fellow members of the league such as Bucknell and Georgetown, but their wins and losses were not recorded for the conference standings.  However, this year the Rams cannot only once again compete for the championship, but are positioned as the frontrunner due to the team's returning players.
On offense, only the running back position has experienced any sort of turnover due to the departure of Carlton Koonce.  While the loss of his playmaking might be detrimental to the offense, the team still has Walter Payton Award contending quarterback Mike Nebrich leading.  He along with fellow seniors such as wide receiver Sam Ajala and tight end Dan Light look poised to somehow improve on their record breaking offense.  On the defensive side of the ball, the Patriot League Preseason Defensive Player of the Year, senior linebacker Stephen Hodge headlines a group featuring All-Patriot players like defensive lineman DeAndre Slate and defensive back Ian Williams.  With an experienced roster full of talented veterans, Fordham is ready to take another huge step forward. 
Some doubt that the Rams can be better than last year.  After all, they did set the school record for wins and even defeated an FCS team in Temple.  While these achievements are momentous, there is nothing stopping the team from being even more of a powerhouse this year, except possibly the burden of inflated expectations.  All eyes will be on the Rams this year in the Patriot League, and officially winning it will be a difficult task.  However Moorhead and his seasoned team have been there before, and they will be again.