Museums Open New Exhibitions this Fall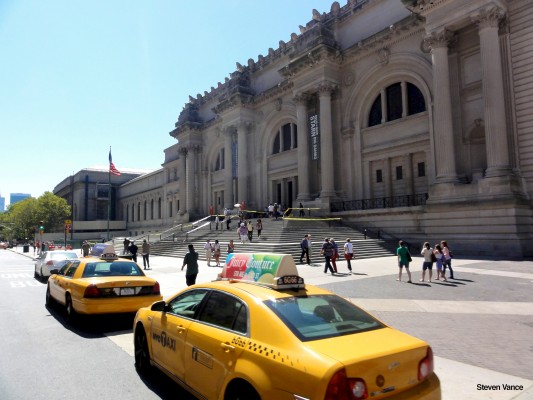 This fall, Fordham College at Lincoln Center (FCLC) has its eyes on many of New York's new art exhibitions, as museums go out-with-the-old and in-with-the-new. Displays range from El Greco's Spanish Renaissance paintings to contemporary fashion staples. 
Killer Heels: The Art of the High-Heeled Shoe at the Brooklyn Museum 
This September, the Brooklyn Museum's "Killer Heels" exhibition explores the long fashion history and cultural significance of the high-heeled shoe. Visitors will have the chance to see more than 160 stilettos and six short films, which all highlight this iconic fashion accessory. 
Thomas Hart Benton's "America Today" Mural Rediscovered at The Metropolitan Museum of Art
According to Nina Rowe, chair and associate professor of art history, there is a show coming up on Thomas Hart Benton at The Metropolitan Museum of Art. 
The exhibit will be commemorating the gift of Thomas Hart Benton's mural of "America Today" from AXA Equitable Life Insurance to The Metropolitan Museum of Art in December 2012. The ten-panel mural vividly displays a panorama of American life throughout the 1920s.
"Men in Armor: El Greco and Pulzone Face to Face" at The Frick Collection
"This year marks the 400th anniversary of the death of El Greco, an artist who was born and trained in Greece, traveled to Italy and achieve fame in Spain," Maria Ruvoldt, associate professor of art history, said.  
To mark this 400th anniversary, The Frick Collection pairs El Greco's "Vincenzo Anastagi" with the "Portrait of Jacopo Boncompagni", a work by El Greco's comtemporary, Scipione Pulzone. Together in this private collection, both subjects are depicted wearing affluent armor. 
"The Crusader Bible: A Gothic Masterpiece" at The Morgan Library & Museum
Rowe also noted that there is an important exhibition on a thirteenth-century illuminated manuscript opening at The Morgan Library and Museum.  
The museum will be showcasing the Crusader Bible, which is renowned for its colored illustrations and historic stories from the Old Testament. Such stories, which are all set in thirteenth-century France, are told through bright images of medieval castles, towns and armor. Visitors will have the opportunity to view over forty of the manuscript's miniatures, and learn about its long journey to New York.