Meet the Class of 2018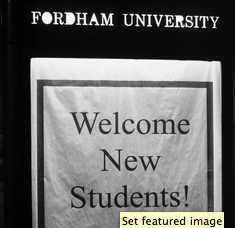 More than seventy percent of the incoming class of 2018 (including Gabelli Lincoln Center students) will be a resident at Fordham College at Lincoln Center (FCLC), according to statistics provided by the Office of Admissions.
"The new residential facility at Lincoln Center has allowed us to expand our offers of on-campus housing," Patricia Peek, director of undergraduate admissions, said. "In the past we were not in a position to give all admitted students who requested to live on campus the option to do so." 
The incoming class of freshman is almost a quarter larger than the class of 2017, according to Peek. "This increase is due to a larger FCLC class as well as the new Gabelli at Lincoln Center students," Peek said. 
568 students are enrolled in the class of 2018, including 84 students enrolled in the Gabelli Lincoln Center program. "It's not that FCLC is twenty five percent larger, it's the two programs together," Peek said, referring to the inclusion of the Gabelli Lincoln Center program and the opening of the new residence hall for freshman. 
Incoming freshman have averaged a high school grade point average of 3.6, and a SAT score of 1258. 22 countries and 38 states are represented, including significant numbers from New York, New Jersey, Connecticut, Pennsylvania, Illinois, Florida, Texas, and California. 
129 students are coming from the five New York boroughs, including 14 in the Gabelli program. 62 students are attending Fordham from California, including 11 Gabelli Lincoln Center students.  "Californians comprise, outside of the tri-state area and our local markets, the largest group, which is very exciting," Peek said. 
Enrollments of Black/African Americans, Native Americans, and Asian students have increased since 2013. "Diversity is an important part of our mission and who we are, and it's important that we have students that represent all types of diversity in the class," Peek said.