Ram Van Ticket Prices Increase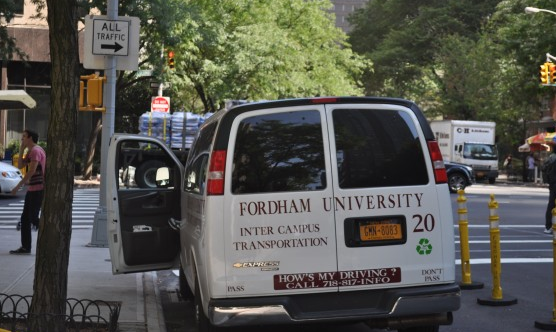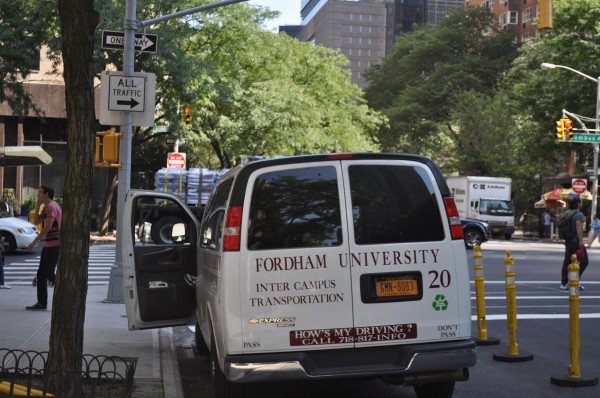 Fordham's Department of University Transportation has raised the price from $3.00 to $3.50 for a one-way ticket to travel between the Fordham College at Lincoln Center (FCLC) and Fordham College at Rose Hill (FRCH) campuses.
On Fordham's transportation webpage, Director of University Transportation Marc Canton wrote that the price hike was due to the "increasing cost of vehicle maintenance and the rising price of fuel." In an interview, he said, "It hit a point where we could no longer continue to absorb the costs associated with the service that have been steadily increasing."
"It's still an overwhelming subsidized service. We don't make back anywhere near what it costs to run the service," Canton continued. On average for the last ten years, 51 percent of riders rode for free. (Students who take classes at an alternate campus are eligible to receive a pass.) Last academic year, however, 59 percent of riders paid the $3.00 fare.
An alternate option to travel between campuses is via subway. The price for a single ride is $2.50, one dollar less than the price of a Ram Van ticket. There is, however, about a 10-minute walk between the D train station and the entrance to the Rose Hill campus. Students can either walk or use a free transfer to take a bus.  
For students who have the seven-day or 30-day Unlimited Ride MetroCard and do not want to spend $3.50 for the Ram Van, but feel unsafe to make the 10-minute walk to or from the D train station, Fordham security stations a free shuttle at the D train station to take students to the Rose Hill campus. When one van fills completely, it waits at the station until another van arrives. This service is available seven days a week from 10 p.m. to 5 a.m. 
According to Canton, the Ram Van price last increased in 2007, from $2.50 to $3.00.  Although the subway fare has increased twice since 2007, it has remained lower than the price of a Ram Van.
Other schools offer a similar intercampus transportation service – but for free. When asked how Fordham competes with those schools, Canton said that the other schools provide a "different kind of service. It tends to be more of this shuttle-route type service, and it's not nearly as robust."
New York University (NYU) shuttles students three miles between its Brooklyn and Washington Square Park campuses for free, but the shuttle leaves every hour. (Fordham's leaves every half hour.) NYU also offers an overnight on-call van service, which takes students to any NYU building. Austin Snyder, NYU '17, said of the service, "It is pretty convenient, especially if you live in some of the further away dorms."
Northwestern University transports students between its Evanston and Chicago campuses – a distance of about 12 miles, only a mile longer than the distance between Lincoln Center and Rose Hill. Northwestern's service is about as frequent as Fordham's, but it ends at 11 p.m. each night – unlike Fordham's, which makes its last run at 4 a.m. on the weekends. 
According to Canton, two-thirds of the fleet use biodiesel. The rest use gasoline. But, according to U.S. Department of Energy shows, biodiesel and gasoline prices have remained steady for the most part since 2011. 
By 2016, Fordham plans to convert the entire fleet to biodiesel. "Over the life of the vehicle, the extra money you spend on buying the [more fuel efficient] vehicle is about what you save in fuel, but we want to do it anyway because it reduces our carbon footprint tremendously," Canton said.
Depending on what time they drive, Ram Van drivers make $10.40, $11.40 or $12.90 per hour, according to Canton. Andrew Kane, FCRH' 16, a Ram Van driver, said, "It's already more expensive than the subway, so I know it's going to be annoying to some people… Some people are stockpiling tickets early. That's a good idea."
Connor Mannion, FCLC' 16, understands the price increase, but isn't happy about paying more. Noting that the subway is one dollar cheaper, he said, "Some people wouldn't feel safe taking the D train at night. The Ram Van is a bit of a safer option. It can be a faster option sometimes."