Spain's Quest for History in the World Cup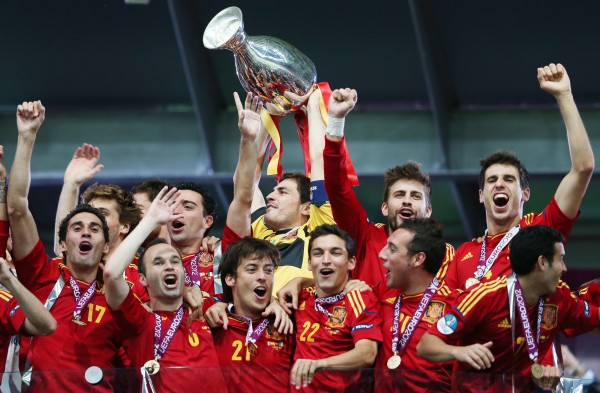 This upcoming World Cup will be sure to guarantee viewers drama that beautiful sport offers every four years, however, an opportunity for history is at hand and it is a dire one.
The Spanish National Team has always been known as the underachievers. Always known as one of the better sides in world football, their results never reflected a case strong enough to consider them the best in the world. The typical candidates of the best national teams always include Brazil, Italy, Germany, Argentina and Uruguay since all these nations have won the World Cup more than once.
Before Spain won their first World Cup in 2010, their last and only top four finish in the World Cup was in 1950. Compared to Brazil with 10 top-four finishes along with five World Cup wins and Germany with 12 top-four finishes and three World Cup wins, one cannot say Spain has had the best national team in history.
The difference in this upcoming World Cup is that the current national team from Spain, stemming from their UEFA Euro win in 2008 over Germany, has the opportunity to be the greatest single national team in history.
Since 2008, Spain has consecutively won two UEFA European Championship titles and a World Cup, the first team to win three consecutive continental or World Cup trophies. They also went on a record breaking 15-game win streak as well as a record tying 35-game unbeaten streak shared with the Brazilian team in the 1990's.
Spain's tiki-taka style of play, consisting of a strong control of possession and passing, has allowed Spain to thrive. This radical style of football has allowed Spain's inefficiencies in size be their strength, allowing finesse and technique overpower teams who are physically stronger than them.
Clubs like FC Barcelona have mastered tiki-taka in the past with domestic and continental titles to show in the past five years. National team players like Xavi, Iniesta, Puyol and Pique have helped transition their domestic chemistry to the national side even though they play alongside with players in rival clubs, specifically Real Madrid.
Fast forward to 2014 and you see a Spanish National side in a slight decline. Players have gotten six years older since the team's 2008 UEFA Euro win. Carles Puyol, the anchor of their defense, has retired from football. Fernando Torres, the third highest scorer in national team history, has been a shell of his former self since his move to Chelsea from Liverpool.
Signs of descent are beginning to show when Spain lost 3-0 to Brazil in the 2013 FIFA Confederations Cup, ending their 29-match unbeaten streak. Brazil will be hosting the World Cup this year and have remerged over the past half-decade as a major threat having won the Olympics in 2012. Germany, Argentina, Uruguay, Portugal and Italy are all sides who can be seen winning the trophy as well.
However, there is still a silver lining in all this. Striker David Villa who suffered a leg injury while playing for Barcelona has healed and is playing well for Atletico Madrid along with his teammate Diego Costa, a new goal scoring addition to the national team. These two players will be a major threat to any defense.
This coming summer will be an interesting one to watch with a less dominant Spanish team entering this tournament. However, what is at stake is important. If Spain is able to win the World Cup, they will join Brazil and Italy as the only countries to have won two consecutive World Cups. The benchmark greatest team which is Brazil starring Pelé in the 1950's and 1960's, who won the two consecutive World Cups, would have to pass the baton to the new king of football, Spain. Winning four consecutive continental and World Cup tournaments will be unprecedented in the history books and won't be contested for perhaps another half-century or more. We will see in Brazil whether fate will have a transfer in power for football supremacy.