Fordham Reacts to Court Ruling
On Tuesday, April 22, the US Supreme Court delivered a 6 to 2 ruling that upheld a Michigan State law banning the use of affirmative action in the admissions process for public state universities.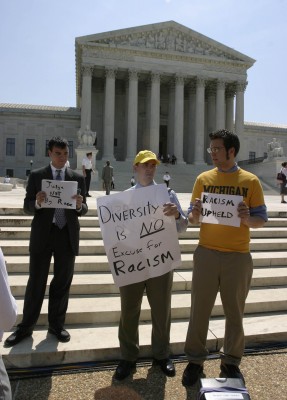 How this ruling can affect the future of college admissions is unclear, according to Patricia Peek, director of admissions at Fordham. "The use of race in admission, as you know, has been on the enrollment landscape for quite some time and right now, it's impacting the public colleges," Peek said. "It's too early to say what's going to happen in the future, but it's certainly something that we're following."
For Irma Watkins-Owen, associate professor of history and director of African-American studies at Fordham College at Lincoln Center (FCLC), the Court's ruling was unsurprising yet still disappointing. "The direction of the court in recent years has been towards revising the major developments and changes in civil rights that so many of us had hoped that would be the turnaround points in our country," she said.
Jackie Mosteller, a Diversity Peer Leader and FCLC '14, echoed Watkins-Owens. "The primary impetus for creating affirmative action policies was to undo historic injustices done to minorities and the disadvantaged," she said. "To promote bans on those policies is definitely a step backwards. We have yet to provide adequate reparations for anything that our government or our people have done."
"This case is not about how the debate about racial preferences should be resolved," Justice Anthony Kennedy wrote in the majority opinion joined by Chief Justice John Roberts Jr. and Justice Samuel Alito Jr. "It is about who may resolve it. There is no authority in the Constitution of the United States or in this court's precedents for the judiciary to set aside Michigan laws that commit this policy determination to the voters."
"Legislation is critical in that the Supreme Court plays a central role in upholding certain kinds of policies and regulations that society is compelled to abide by," Watkins-Owens said.
Growing up in Jackson, Mississippi during the Jim Crow era, Watkins-Owens experienced first-hand how legislation and the court system can change society. "Growing up as a kid there were some places I couldn't go," Watkins-Owens said. "But after the Civil Rights Act passed in 1964, the transformations were not immediate, but they were pretty fast. Within a few years you could go to parks and recreational facilities, restaurants and places like that."
Some places were faster to change than others Watkins-Owens explained, "for example, the doctor's office, where previously the doctor had separate waiting rooms for white and black patients. After desegregation, he kept the rooms separate and took down the signs." People continued to gravitate to the separate rooms in the 1970, she said.
"What he should have done was take down the wall and made it just one big waiting room, instead of keeping that structure there," she said.
"I do think these kinds of decision set us back because they don't promote, they encourage continued discrimination. They encourage maintaining those barriers," Watkins-Owens said.
Though the ruling would not affect Fordham, diversity is a component of the University's admission process.
"We want to have our students meet, live with, and interact and collaborate with their peers and the faculty who have different opinions, histories, cultures, interests – a global perspective is integral to a Jesuit education," Peek said.
Leaders in the world of higher education have expressed concern that this ruling would affect how different universities would pursue diversity. "When there are policy changes, people have to digest them and see how they make sense for each institution. Institutions vary in terms of the diversity of their pools and/or the students they have interested in their programs and campuses," Peek said.
Mosteller is uncertain that universities will be proactive in bringing in diverse students. "Universities are businesses. If there is no demand for diversity or multiculturalism or promotion of acceptance, they aren't going to supply those things," she said.
Peek believes that this won't be an issue at Fordham. "We will make sure that we pursue diversity because we value it here. I'm sure that it will be more challenging for some schools than others."
Additional Reporting Adriana Gallina.