Mary Higgins Clark Visits Fordham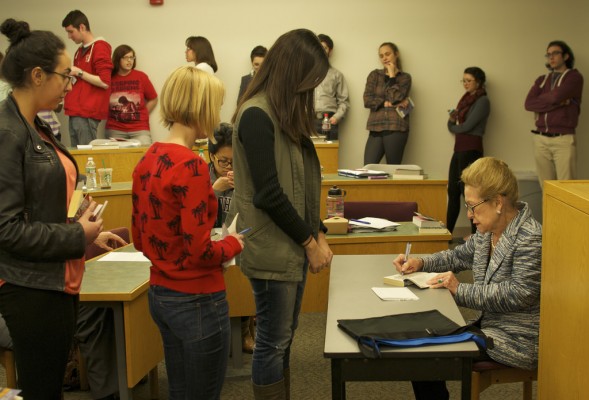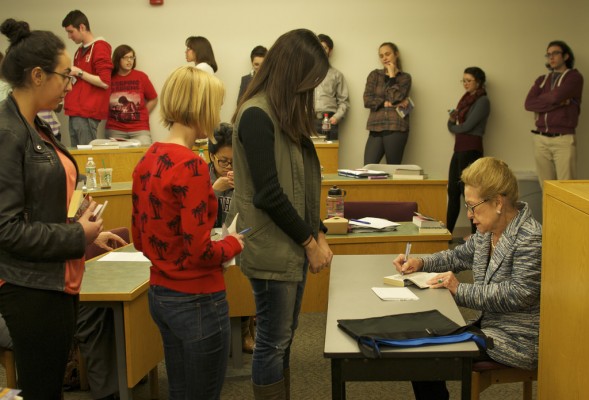 On Tuesday, April 29, 2014, Mary Higgins Clark, Fordham College at Lincoln Center (FCLC) '79, spoke to students in Professor of English Mary Bly's Publishing: Theory and Practice class.  Clark led a discussion on her works as a whole as well as signing copies of her 1975 best-seller "Where Are The Children?"
Clark received her first major book deal for the novel while she was a student at Fordham and on her way to a philosophy class: she walked into class and proclaimed to her classmates: "I just got a million dollar contract!" The book later hit No. 1 while she was still a FCLC student. Since then, she has consistently made the New York Times best-seller list and has won numerous awards, including being named the Grand Master at the 55th Annual Edgar Allan Poe Awards.
Most recently, the 86-year-old novelist released a new book on April 1, 2014, "I've Got You Under My Skin," which reached number one on the New York Times best-seller list.
Clark, who has been writing since age 6, said, "I was always a writer. I had to write."  She wrote and sold short stories after high school, while she worked for an advertising agency before going on to write four-minute radio shows.
One student asked, "What led you to write in the mystery genre?"
"I would have been writing history novels because I love them," Clark replied. "I looked at my bookshelves, and most of my books were in the suspense field like Nancy Drew, English and mystery writers and suspense writers." She also added, "A crime story is like getting on a fast train and not getting off until the end."
Her first historical novel "Mount Vernon Love Story" about George and Martha Washington was unsuccessful.  After she worked on the novel for three years, Clark's agent told her, "A love story between those two! All George gave Martha was splinters," which was received with laughter from the class.
Clark also spoke about her inspiration for her suspense novels and how she goes about writing best-sellers.
"The number one question I get asked is 'Where do you get your ideas?' and the answer is everywhere," she said. She looks at newspapers, attends criminal trials and reads the gossip pages of the New York Post.
For instance, for "Where Are the Children?" she was influenced by the murder case of Alice Crimmins, an American woman who was accused of strangling her two young children but later released on parole on a technicality in 1977. Clark believes that Crimmins was guilty but envisioned the protagonist, Nancy Eldredge, as a parallel to Crimmins.
Clark's advice to aspiring writers is to "read the books that you like, read the one that you like best.  That may be where you belong [as a writer]."
Clark stressed that it is important to "get right to the heart of [the story] in the beginning [when you're first writing].  Open it with something that compels readers to read the second paragraph." She added, "Don't write like an English teacher is looking over your shoulder," and "Don't hold back—you can always tear out pages."
However, it wasn't all business. As a parting comment, she told students, "Keep your dream, and one day, you'll get your first paycheck—believe me, it's lovely."