Tino Martinez to Deliver Commencement Keynote, Sotomayor to Receive Honorary Degree
Updated: May 1, 2014
Former Yankees player Tino Martinez will be the keynote speaker at this year's Commencement ceremony on Saturday, May 17. Fordham University confirmed in a statement released on Thursday, May 1.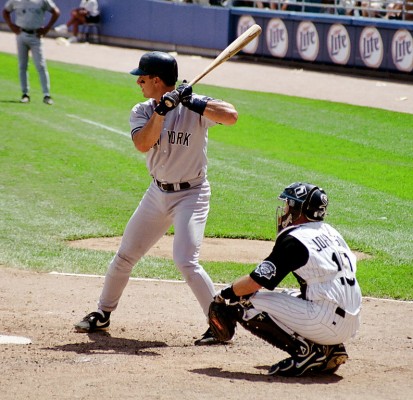 The University will also award honorary doctorates of laws to United States Supreme Court Justice Sonia Sotomayor and United States Court of Appeals for the Second Circuit Judge Denny Chin, LAW '78.
Martinez will receive an honorary doctorate in humane letters during the commencement. Fordham trustee Stephen E. Bepler, FCRH '64, Yvonne Cagle, Sister Mary Alice Hannan, O.P., Nemir Kirdar, GBA '72 and Reynold Levy will also receive honorary doctorates in humane letters.
The doctorates are awarded to individuals that "have made outstanding contributions in business, law, philanthropy, social service, the sciences, and professional sports," the statement said.
Martinez was first announced as the keynote speaker by sports broadcaster Michael Kay, Fordham College at Rose Hill (FCRH) '82 during the New York Yankees and Los Angeles Angels game on Friday, April 25.  "Now I'm going to tell you something that will absolutely shock you," Kay said to former Yankees right fielder and analyst for the Yankee Entertainment and Sports Network Paul O'Neil. "You know who the main commencement speaker for Fordham graduation is this year?"
"Constantino  'Tino' Martinez. His daughter is graduating this year," Kay said at the bottom of the fifth inning.
"I bet he's nervous," O'Neill said.
"He is. He is. You have to have a long speech. You have to tell them stuff that changes their life," Kay said, before reminiscing on his own commencement ceremony at Fordham.
According to the Major League Baseball (MLB), Martinez was born in Tampa, Florida and later enrolled in the University of Tampa. In the 1988 Seoul Summer Olympics, Martinez won an Olympic Gold Medal as part of the USA's baseball team. He made his Major League Baseball debut for the Seattle Mariners in August 1990, at the age of 23, and in 1996, was acquired by the New York Yankees. In 1997, he was awarded the Silver Slugger Award, given to the best offensive player in both the American and National league, by the MLB.
In 2002, Martinez played for the St. Louis Cardinals before returning to the Yankees for the final stretch of his MLB career. He retired from the Yankees in February 2006. During his 16-year career in the MLB, Martinez scored 1,008 runs, drove in 1,271 runs and hit 339 home runs, according to ESPN.
According to the University, "among the members of the Class of 2014, Martinez will be addressing is his daughter, Olivia, a senior at Fordham College at Rose Hill."