Student Composer Makes Fordham History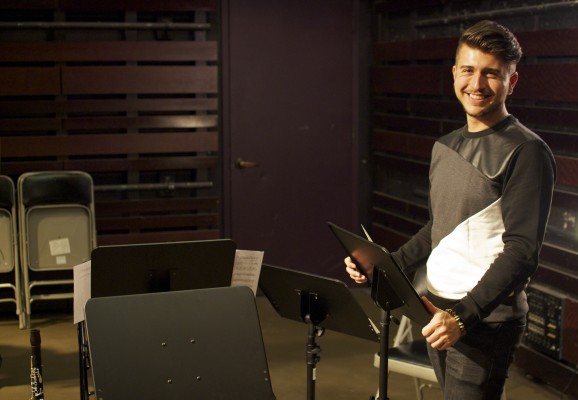 Anyone attending the Fordham College at Lincoln Center (FCLC) Arts and Sciences showcase on April 10 was a witness to Fordham history; composer Charlie Martin, (FCLC) '14, played his song "Ascent of Mountain" as part of the function. Martin's work represents the first time Fordham has commissioned a work by a student composer for a school event.
"I was asked to write a piece of music for a string quartet called 'Ascent of Mountain.' Mainly, it was in order to provide musical dimension to the symposium," Martin said. "Ascent of Mountain" is a 10 minute work, using four movements (a part of a piece performed in succession) and intended for the cello and violin.
"As far as I know, that's never been done before. Music has happened on campus; people have brought in bands to perform and have written musicals and shows and stuff, but as far as I know, no student performer has been asked to create something new for a specific event and get it recorded," Martin said.
He explained that "Ascent of Mountain" represents his relationship to Fordham, his views on 16th century Spanish mystic John of the Cross, as well as his own coming out story, as Martin identifies as queer. "I try to make things for other people, I try and make things that tell stories and I try and tell stories that are about me or stories that are close to me," he said. Ultimately, Martin defines his style as primarily classical, indie and Afro-Latin.
His inspirations are from 20th century Spanish composers like Enrique Granados as well as French composers like Maurice Ravel and Frederic Chopin. His influences reflect his desire to work in a myriad of musical styles, not exclusively classical, opera and jazz.
"Some people would be appalled if you did Beethoven's Second Symphony, followed by a Cruz salsa, followed by Coltrane. I would love that," Martin said. He's interested in the blending of inharmonious or seemingly incompatible forms and creating something beautiful and new while still respecting the individual components.
Martin explained that he was always a musician at heart, though he spent years in high school balancing academics, music and extra- curricular activities. When it came time to choose universities, however, Martin decided on an institution where he could explore several pursuits. "I entered Fordham with the explicit plan of attending Julliard as well and I took advantage of night classes at Julliard all four years," he said. Martin is currently taking the Music Composition Workshop at FCLC, taught by Daniel Ott, assistant professor of art history and music, and has exhausted nearly all the Julliard night school classes in his field. For the Music Composition Workshop, Martin recently wrote "Amor de Terremotos", which was featured at the 2014 Composers Concert on Monday, April 14.
His future plans reflect his many interests, though music again proves to be his true love. He is planning to serve as the vice president for creative outreach at Show America, a startup social network that connects artists and creative individuals. This summer, he is also participating in the European American Musical Alliance fellowship in Paris and the Dulwich International Music Academy program in Beijing, as well potentially collaborating with a choir in upstate New York. He certainly sees graduate school in his future -he's looking at Yale School of Music, San Francisco Conservatory and Julliard- and hopes graduation doesn't mean the end of his days at Fordham.
"Maybe one day, I could come back and teach."
"Ascent of Mountain," as well as other pieces, can be found online at www.charliemartinmusic.com/music.