Who's on First for the New York Mets?
What can a $3.5 million salary get you on the New York Mets? Well, it can guarantee you a seat on the bench. But don't get excited, no one knows when you will actually get to play on the field. Just ask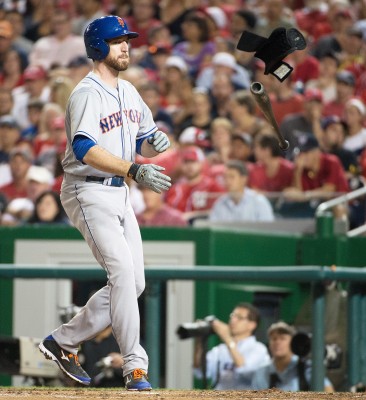 Ike Davis, the former first baseman who lost his job to another player within the first three days of the season. Now Davis is stuck in a baseball limbo between an everyday starter and a benchwarmer extraordinaire.
Truth be told, Davis certainly hasn't been playing his best baseball. He is currently hitting a .200 batting average, with one home run and five runs batted in (RBI). Even though his numbers won't leave you jumping for joy, there is no reason to take his job away from him.  Especially considering at the time of his replacement, he was outperforming his counterpart, Lucas Duda, in defense and offense. Davis was hitting 1-for-3 with one walk, while Duda was 0-for-6 with a walk and a pair of strikeouts. How exactly does one lose his job to someone who was literally unproductive for the team?
Since Duda's promotion from outfield to everyday first baseman, he has been playing significantly better. But shouldn't that be happening anyway? Why applaud a player who's doing exactly what he is supposed to do? Especially considering first base is the position that Duda has trained most of his life for. Now, I don't have a bone to pick with Duda. After all, people usually accept a job promotion that they've worked towards for their entire lives.
My issue is with Terry Collins, the Mets manager, and by extension, the Mets management. The Mets knew what they were getting into when they signed two first basemen to the team. And beyond Davis and Duda, the Mets have added Josh Satin, another first baseman, to the roster. With a spot in the roster, Satin has unfairly been given a glimmer of hope thinking he actually has a shot in becoming the Mets' first baseman. That's not going to happen, it's always been a two-player race between Duda and Davis.
There is now a ridiculous, awkward rotation among the three players. Forget about competition with the opposing teams, these guys are in competition with one another. No one wants to be sitting on the bench when they can be hitting home runs out of the ballpark and soaking up the glorified attention of New York media and fans.
Duda being the everyday starter doesn't mean he will be playing everyday. Since being promoted, Duda's only had 28 at-bats. The average everyday starter gets between 40 to 50 at-bats. At best, Duda might see playing time three out of four days, according to what Collins told Marc Carig of Newsday.
Not playing Duda everyday will hurt him rather than benefit him. Duda was demoted three years ago to the minor leagues because of confidence issues, according to Matthew Cerrone of MetsBlog. Confidence has caused Duda to reconsider his future. "Duda himself has questioned his own ability to be a major league player," Cerrone said. If Collins continues to debate about whether or not Duda can play everyday, it might just make Duda feel more insecure about where he stands on the team. Therefore, his production will probably decrease.
Davis is another player who will deteriorate with less playing time. Historically, Davis needs a consistent amount of at-bats and time on the field in order to become a successful hitter. He cannot be successful with just one at-bat here and there. Without a daily routine, he'll never get back to his glory days where he hit more than 30 home runs in a season. Collins and the other coaches on staff should know that. Davis will fall by the wayside, and with a lack of playing time or at-bats, other teams would be less likely to be interested in him. With no interest, there's a lose-lose situation for Davis and the Mets. The Mets won't get anything in trade value for Davis and Davis's career could possibly be over.
As of right now, the Mets have created a mess. It's time to hunker down and make decisions about who is going to play what position. And Mets, next time you should learn to spend more wisely.