Coach Stephanie Gaitley Talks Basketball and Life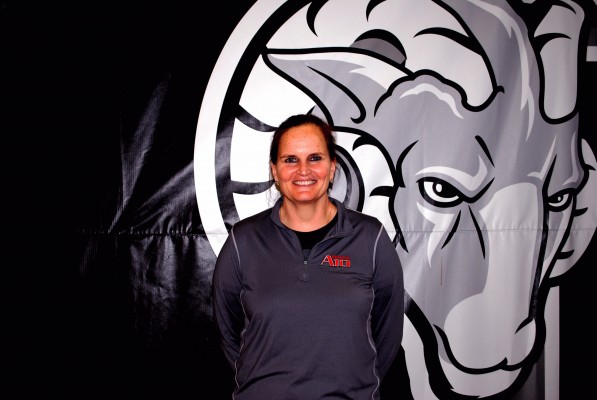 After an impressive 11-5 record this season, which included an Atlantic 10 Conference title and a trip to the NCAA Tournament, The Observer caught up with women's basketball head coach Stephanie Gaitley to talk about life both on and off the court.
Observer: Coach Gaitley, firstly congratulations on a phenomenal season, the team has achieved great things. It's really been a great season to watch as a fellow Ram.
Stephanie Gaitley: Thank you, I appreciate it.
Observer: You've been at Fordham for almost three years now. What are some of the changes you've noticed during your time at Fordham?
SG: Just growing in confidence. I think in year one we tried to lay the foundation of what our philosophy would be, which was, you know, to be a team: take care of each other, believe in each other, and from a basketball standpoint, defense. The first year is always a 'feeling out' process, people willing to trust each other and buying in, and I think we established that. Year two, once you learn to win, then that's how you start to turn a cycle around. It's like a catch-22, you can't learn to win unless you win. Once we were able to do that, we were able to turn a corner and just springboard to year three. During year two, we learned how to win, we felt the agony of defeat in the last game of the championship and I think that pain lead us to finish up this year.
Observer: The team's "stifling defense" is often accredited to you. Are there any other plays or techniques you personally have implemented or developed for the team?
SG: We have a lot of different kinds of goal-oriented things that we do. We have what we call our "Chaney Chart" at practice, which is in honor of coach John Chaney, who was a men's basketball Hall of Famer who was head coach at Temple. He's a friend of mine. That kind of charged throughout practice. We have a regular one that does both offensive and defensive things and we also have a defensive one. Depending on what your points are, you do earn that trust, then you go on a chart, and your goal is to get to 100. Once you get to 100, we have a wheel called the "Wheel of Defense." On that Wheel of Defense, once you get 100, you get team awards like a sprint saver, or you can change a drill practice or you can change a goal in practice. So if someone doesn't meet a goal, they can change something. They just love it. Then we also have a Defensive Player of the Week. Every week, we acknowledge somebody by tweeting out a picture of who was the Defensive Player of the Week. We'll also have a Defensive Player of the Year. But you don't have to be a starter or someone who plays a lot of games, it's based on your practice efforts, so that way it doesn't eliminate everybody from it. But we do a ton of those types of things.
Observer: What are some of your personal highlights from this past season?
SG: I just think that whole last week, being able to go to Saint Joseph's to secure the 3-seed, playing at their court and knowing what was on the line. I really think the positioning that the 3-seed allowed us put us in a position to set us up for the tournament line. I'd also say coming off of two losses at Penn State University and Hofstra University, and then going on a 12-game winning streak. Also, winning Fordham's first ever in-season tournament, we won two of those in the Las Vegas tournament then we won our own tournament as well at Christmas. I think it's always a sense of accomplishment, being able to do things that have never been done. And I think this team, as I said to them in the locker room when we finished the other night, will always be a part of history because of what they accomplished this year.
Observer: Do you have any role models you look up to–either in your personal or professional life–and if so who?
SG:: I think it always starts with your parents. My mom and dad kind of set the tone for me as a person. The things I remember are what they said: be the best person you can be, treat others as you want to be treated. My dad always taught me to praise in public and reprimand in private. He was president of Little League for 45 years in my hometown of Ocean City, New Jersey. The baseball field is named after him, so I've always remembered that. My mom just always encouraged us to try to find the good in every situation and everyone you meet. When people ask me what do I think when my teams win, it's not really the offense or defense, it's how you treat people. I think if you treat people the right way and get them to believe in you and trust in you and you trust in them, I think there's a mutual respect. That kind of creates a winning culture. Also, my high school coach, Pat Doherty. We had an unbelievable high school team. I think I had a high school coach who was ahead of her time. And then my college coach who's still coaching at Villanova now, Harry Perretta, was influential. There was a man called Dick Bernhart who passed away two years ago who's very dear to my heart and was my mentor through many things. He was someone who was very patient with me, and taught me a lot about not only Xs and Os but how to deal with issues off the court as well.
Observer: Do you have any personal goals you would like to achieve or have already achieved?
SG: As much as I'm driven to win, and obviously this year was extremely memorable, my favorite part of coaching is really the relationships I build with the players. I think my favorite part is just getting to stay in their life after they graduate. Just seeing them grow as people, on and off the court, and going through the highs and lows because really you become part of this family. There's tough love at times, but the end result is that you go through a lot of highs and lows together. I think, of course, every coach wants to reach the pinnacle of their career. For us at Fordham it may be the Sweet 16. It might never be the National Championship, but I think it's realistic to eventually shoot to be in the Sweet 16. You never know what happens after that point. The big goal would be just consistently competitive in the Atlantic 10, which Fordham hasn't been. I think the last couple of years we've proved that we can be a player in the Atlantic 10 and I think we proved last year that it wasn't a one-year situation. I think we backed it up when we won the conference championship, and we'd like to just continue to be somebody that's respected, which hasn't always been there for Fordham.
Observer: What do you do in your spare time?
SG:  Well my faith and my family are the two most important things in my life. Any time I can get with my family is something that I cherish. I'm fortunate to have my one son, D.C., at Fordham. He plays on the men's team. My other son goes to Fordham Prep. My oldest son works for the San Antonio Spurs and we're going to visit him during Easter. My mom's up now, I'll spend a couple of days with her. So I guess faith and family are just the two driving forces in my spare time. Aside from that I love to go to movies. I'm a movie freak. And I stay pretty active exercise-wise.
Observer: You mentioned before you're married and have a family, three sons. Between having a family and coaching, how do you maintain the balance between personal life and professional life?
SG: It's kind of the same challenge between academics and basketball. You can find the time if you make the time, and you can be the best you want to be at it. You obviously have to have an understanding family. They know the rigors that go with coaching. My youngest son was so cute when we were acknowledged at Barclay's last week in front of the men's tournament. He said to me, 'Mom, that's the spot last year that I cried my eyes out when we lost.' They go through the highs and lows with you. He was on cloud nine when we won the Atlantic 10 this year. He was my only son who hadn't had the chance to enjoy an NCAA experience. All the older brothers said that he was the jinx [laughs] so he's gotten that jinx off his plate. When the kids were younger, it was a challenge especially when I was coaching at LIU. Driving back and forth from Brooklyn, it was a challenge trying to be a mom and be a coach. I'm in a situation now which I'm very fortunate to have kids around me. I have a supportive family, I have my sister up here. So it's like anything else, if you want it to work, you make it work.
Observer:  Do you follow any other sports and if so who are some of your favorite teams?
SG: I follow the Spurs now because my son's involved, and of course my boys' teams. I'm a casual football fan and I'm a casual baseball fan. I'm more of a college basketball than professional basketball person. I love sports, I'm always keeping my eye out on what's going on in sports. Once the season's over, I try to unwind a little bit and try to wrap up recruiting because honestly recruiting is a lifeline. Kids are starting to make decisions this week, you try to finish out something that is going to help you in the future. So you have a limited amount of spare time, and so when I do I obviously put the TV on. I think like anybody else who's in college basketball, you go through a little bit of a down time once college basketball is over. I think college basketball is by far my favorite.
Observer:  Speaking of which, what can we expect for next season?
SG: I guess the term I've used before is "cautiously optimistic." We lose four seniors, two that have been really the backbone of the program the last couple of years, in Abigail Corning and Erin Rooney. I think when you lose your heart and soul of your team, there's a lot you have to replace. I think they've taught the returning kids a lot, we have a good amount returning, we're really excited about the recruits coming in. But I think when you're having new kids at new positions there's going to be challenges. I don't think we'll know who we are probably until 14 or 15 games into the season.
Observer:  Any final thoughts or advice you'd like to give?
SG: I think it's just so important to cherish everyday, because you're not guaranteed anything. We talk a lot with our team about life lessons because so much is parallel to the game of basketball. I feel very fortunate to represent Fordham and I'm excited about the excitement that was brought on campus. All the emails and stuff I got just makes me realize how much people really, really do care and how excited we are that Fordham has created a buzz on campus. I want to thank the Fordham community for all the love and support through this run and it just makes you want to do it again. There's nothing like coming back on the bus and seeing everybody out on the front of Rose Hill to greet us. We are so happy for the kids and see all their hard work pay off. Just cherish every day and try to make a difference in someone's life every single day.