Fordham Alumni and Friends Remember Nahom Kidanemariam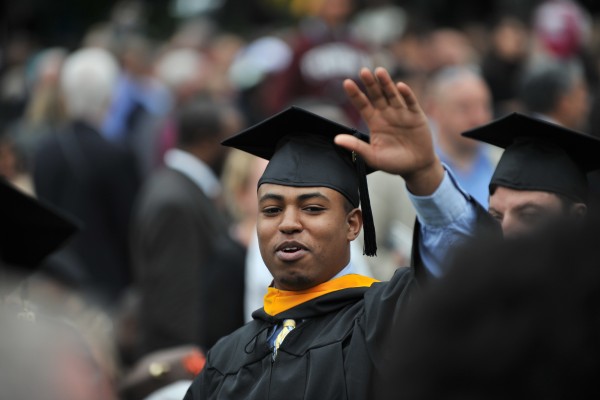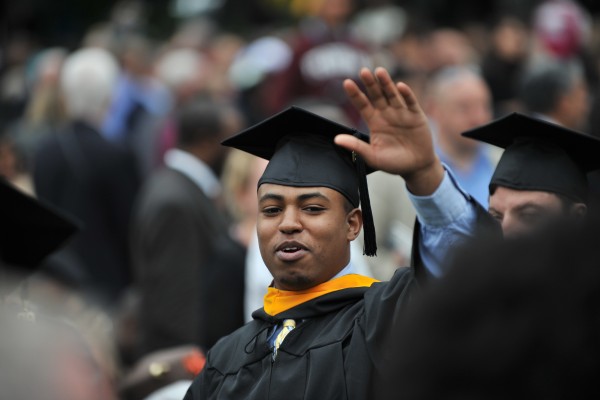 Friends, former classmates and faculty are remembering Nahom Kidanemariam, Fordham's Gabelli School of Business (GSB) '09, as focused, ambitious and loyal.
"Nahom was the most fiercely loyal person I've ever met in my life. He is fiercely loyal to his family, his friends, to that school, Fordham," Rohan Bansie, Kidanemariam's former football coach in Ottawa, said.
Kidanemariam's friends are nonetheless mystified as to why he apparently took his own life in the  Lowenstein bathroom on the morning of Monday, April 7, according to the New York Police Department (NYPD). "I saw him very recently," Daniel Devine, Fordham College at Rose Hill (FCRH) '07 , close friend and former roommate of Kidanemariam said. "You go through a hundred hypotheticals, but we went out to dinner, had a good time [and] chatted; he seemed perfectly content."
A native of Ethiopia, Kidanemariam moved to Ottawa, Canada in his childhood. Before coming to Rose Hill, he spent a year at Western Reserve Academy. "He wanted to go to Fordham because he wanted to be in New York City, wanted to study business, and he loved the campus," Devine said. "Nahom loved this school. It was his family."
"You think about the consummate Fordham Man," Devine said. "You learn how to deal with everyone. You learn how to make your way through in the Jesuit tradition of men and women for others. He really was the embodiment of that."
Devine and Kidanemariam first met in Clinical Assistant Professor of Accounting and Taxation Rosa Romeo's accounting class, when Devine was a senior and Kidanemariam, a sophomore. "He was one of those kids who came into class, seemingly nonchalant, but would have all his homework done and be able to answer the questions before the teacher asked," Devine said.
"He was a great student, he worked extremely hard and he was also very energetic in class. He actively participated all the time," Romeo said. "You know when somebody walks into a room and they light it up? He was like that."
Kidanemariam sought advice about a career in accounting from Romeo. After graduation, he kept in touch with her. "Every so often, I would hear from him, usually via email, about how things were going," Romeo said. "I almost can't wrap my head around it. It's just really hard to grasp what happened and why. He was a great asset and he will be missed."
For a brief period at Fordham, Kidanemariam played defensive back for the Rams. Although he didn't get much playing time on the field, his presence left an impact on some of his teammates. "He wasn't known for being the best athlete. He was better known for being the best professional," Jason Caldwell, FCRH '10, former Fordham roommate of Kidanemariam and football teammate, said.
Tom Massella, Kidanemariam's former head coach at Fordham, recognized Kidanemariam's determination to better himself academically. "I know he was a driven person. He wanted to be successful, and he had a tremendous drive to do that," Massella said.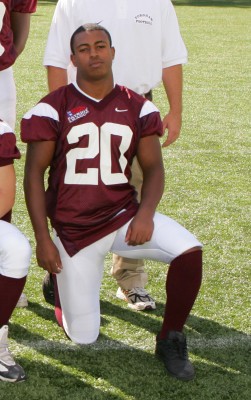 As a sophomore in 2006, Kidanemariam made the All Patriot League Football Academic Honor Roll with a 3.22 GPA in Business Administration. According to Devine, during his years at Fordham, he was inducted into Beta Alpha Psi, the honors organization for accounting and finance students and professionals and interned at Ernst & Young. After Fordham, Kidanemariam attended University of Virginia where he completed a Masters Degree in Accounting.
Kidanemariam's drive continued well after college and graduate school. In fact, Kidanemariam was offered a position as a Senior Consultant at Deutsche Bank on Thursday, March 27. His first day of work at Deutsche Bank was Monday, March 31, according to Caldwell.
Caldwell and others looked up to Kidanemariam's academic ambition. "He was a shining star and a success story for the football players, academically and professionally," Caldwell said.
Caldwell especially admired the way in which Kidanemariam was passionate and dedicated to his studies. "I wanted to be like him," Caldwell said. "He really was a hard worker. He worked hours and hours. He studied hours and hours. He was losing sleep studying. He learned a lot in regards to his profession and he really knew what he talked about."
"Nahom was dedicated to his craft. If he put his mind to something, he would get it done," Woodley Belony, a childhood friend of Kidanemariam in Ottawa, said. "He was relentless and never stopped until he got it."
According to Bansie, Kidanemariam's former football coach in Ottawa, he helped Kidanemariam make crucial decisions in his life, from which college to attend to the intricacies of starting a new job.
"I've known Nahom since he was 13, 14 years old. He was like my second son," Bansie said. "It started out as a football coach/football player relationship, and I grew into being a surrogate father or big brother. He trusted my advice."
"We would plan his life. We would talk about how long he was going to work in Manhattan, would he come back to Ottawa, or would he go to Toronto," Bansie said. "In fact, the last time we spoke, we talked about saving for retirement."
"Nahom was a very intense young man and that's part of the loss that I feel," Bansie said. "He wasn't afraid of putting in sweat equity to get a result. That was his thing, he would do whatever it took to get better."
"He walked away from football several years ago and we thought, well now, he's on track with his professional career," Bansie said. "I'm in shock because I thought he had some good plans, with some good things in place. This is all very troubling because I wish I knew what motivated this to occur."
Belony echoed Bansie's sentiment. "I don't know if there is a word beyond shocked. Speechless. This is someone who was of utmost confidence, dedication. This has thrown everyone for a loop," he said. "One thing that everyone is still questioning is how and why. Are we ever going to find out? No."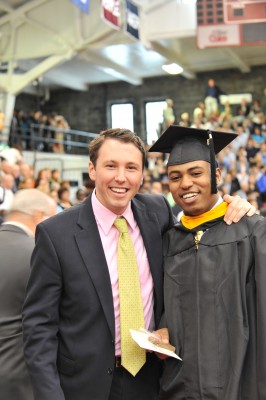 Although most of Kidanemariam's life was dedicated to his professional life, he still found time to connect to those around him. According to Devine, people from all walks of life, from "College Republicans to Progressive Students for Justice, to the late night library crew, to people who were athletes," were touched by Kidanemariam.
Kidanemariam was the type of person that Devine describes as "Harlem to Hamptons, he could literally fit in anywhere and with anyone." His ability to connect with people was unmatched. Kidanemariam was even able to get Dominoes to deliver, not to his apartment, but into his own bedroom. "He was able to convince the delivery guys, who are petrified of entering anybody's apartment, to deliver into his room," Devine said. " He just had a way of bringing people in."
"Even though, to me, he was the epitome of what it is to be masculine, he'd also tell me how much I meant to him, how much I was his family, and that he'd do anything for me," Devine said.  "It's a rare ability to be that way and to also express yourself in a very tender, poignant way."
"His heart was always in the right place," Belony said.
"His passing is incredibly hard," Devine said. "But I take at least some comfort in knowing that he lived well, he worked so hard and he was able to express how important people were to him."