Best-Selling Writer Elizabeth Gilbert Holds Talkback at FCLC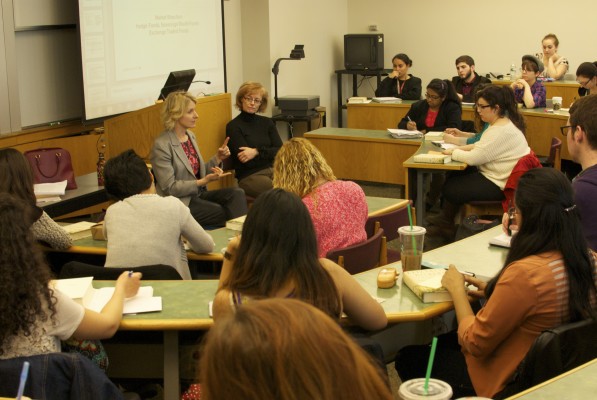 On April 8, Mary Bly, professor of English at Fordham College at Lincoln Center (FCLC), hosted New York Times best-selling writer Elizabeth Gilbert, author of "Eat, Pray, Love," in her class Publishing: Theory and Practice. The class included a talkback and signing for Gilbert's novel "The Signature of All Things," published last year, which chronicles the fictitious life of a 19th century traveler and botanist, Alma Whittaker.
"The Signature of All Things," like her 2006 novel "Eat, Pray, Love: One Woman's Search for Everything Across Italy, India, and Indonesia" and its subsequent movie starring Julia Roberts, tells the story of a woman's travels through life. While "Eat, Pray, Love" is a memoir, "The Signature of All Things" is historical fiction, and tells the story of Alma Whittaker's adventures in 19th century London, Peru and Tahiti as she unlocks the mysteries of floral science.
Gilbert responded to student inquiries during the Q & A session and spoke about the overwhelming success of "Eat, Pray, Love," how "The Signature of All Things" was the novel she wrote that she wanted to read and her plans for future works.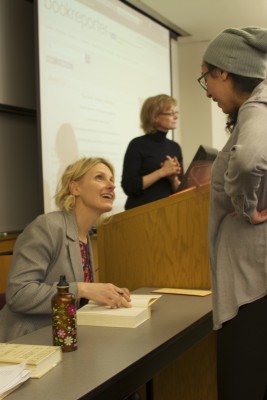 One student asked: How did you get started in your writing career?
"I decided not to go to grad school. I didn't want to spend the money, and I didn't think I had to,"  Gilbert explained. Instead, she worked as a waitress in a diner in Philadelphia, saved her money for traveling and created unofficial writing classes with friends to grow as a writer.
"Writing is not a career like a ballerina," Gilbert said, "you only get smarter as you get older, unless you're not paying attention in life." She felt her life experiences only enriched her writing and didn't take away from her time writing.
At age 24, after six years of rejection from publishing houses, Gilbert said an unsolicited piece of hers was published in Esquire Magazine. After that, she said: "I paid the rent with magazine stories and wrote books on the side."
Another student asked What was the experience with "Eat, Pray, Love" like?
"'Eat Pray Love' was year zero for people for me," Gilbert said. Though it was her fourth novel, it was the first that struck a chord for people. She described how the book took off in a word-of-mouth manner, how people passed it around from mother to daughter, sisters, friends, all of whom had found something resonating in the book about finding oneself through travel, all of which contributed to its long-term success on the New York Times best-seller list.
"There are new broken hearts everyday," Gilbert said laughingly, noting that "Eat, Pray, Love" found a niche audience in female readers, particularly those who had experienced romantic strife.
Its popularity proved as much a curse as a gift, according to Gilbert. The book "ceased to be a book and became a screen on which people projected these big emotions," she said. It simultaneously became her own measuring stick and cross to bear; it was something that gave her notoriety and something to live up to, Gilbert said.
Her next book, "Committed: a Skeptic Makes Peace with Marriage" was the sequel to "Eat, Pray, Love" and her saving grace. "I had to put something in the world to break the spell of 'Eat Pray Love'," she said.
Another student asked: "The Signature of All Things" was the novel you wrote that you said you wanted to read. What inspired the style?
"I don't love reading books where I don't trust the narrator," Gilbert said. Citing her love of 19th century writers like Charles Dickens, Gilbert drew inspiration of their use of omniscient, completely authoritative narrators and imitated the style.
For "The Signature of All Things," Gilbert wanted to write a birth-to-death novel with an omniscient point of view that celebrated the 1800s form, without becoming pandering or pretentious.
"I'm not pretending I'm George Eliot. I'm inspired by George Eliot."
In the book, Alma does not ultimately find love. Why did you make this choice?
This was "a really big question" according to the author.
"She did find love, and she always had love. It was the vocation of her work." Gilbert pointed out that in 19th century works, the goal for female characters was to marry well, and to do otherwise was failure—she used the example that one could be either Lizzy Bennett or Anna Karenina: either happily married or dead on the railroad. Gilbert wanted to refute those archetypes.
"I don't know anybody whose life was either rescued or ruined by a man." The women she found in her life to be the most inspirational were those who flourished despite their misfortunes, and she wanted to celebrate that.
Addressing her upcoming projects, Gilbert said: "I want to write about New York theater in the 1940s," Gilbert said, mentioning that she wanted to follow up on the serious subject matter of "The Signature of All Things" with something a bit more lighthearted—a romp with some sex and perhaps even some happy endings. In the book after this one, Gilbert laughed, "I'll give someone a break."