Princess of Darkness: Barrett Wilbert Weed of 'Heathers'
Beginning on Monday, March 31, New World Stages, just around the corner from Fordham College at Lincoln Center (FCLC), will be home to the New York City premiere of the musical "Heathers," based on the 1988 cult classic film "Heathers," which starred Winona Ryder, Christian Slater and Shannen Doherty, has a new lead for its off-Broadway run: Barrett Wilbert Weed. Though this is her first leading role in a major production, Weed is no stranger to exploring the horrors of high school and the beauty of dark characters.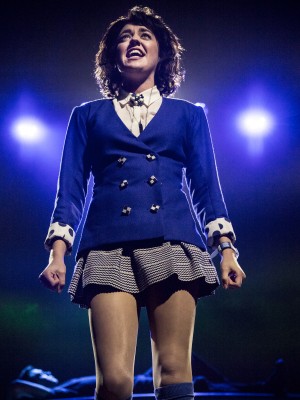 "This production was the flukiest thing in the world. Our creative team and our directors tend to work really fast, especially when they're casting. I just happened to be there at the right time," Weed said, chronicling her initial involvement in the show. "They collectively had an aneurysm and decided to keep me for this production. I've been thanking my lucky stars every day."
"Heathers" tells the story of a clique of cruel teenage girls, who run their high school until several murder plots get in the way. Weed plays Veronica, the newcomer to the "Heathers" clan and heroine of the show. Veronica faces both the "Heathers" and her internal demons with her mysterious boyfriend."I still can't believe that I'm the person who gets to originate Veronica. Every time I say it out loud, I still can't believe it," Weed said.
Both the character of Veronica and the film "Heathers" have a fierce cult following, which has proven a draw to the box office and a challenge to the performers. "There really is an expectation to find a happy medium between doing a full-blown impression of Winona [Ryder] and creating a more fully-fleshed out character that can live in a musical. In a movie, you have the luxury of not always saying how you feel or looking how you feel inside. In musicals, you don't leave anything to the imagination, because that can be very confusing," Weed said, explaining the difficulties of taking on a beloved story. Weed also pointed out the difficulties of having "everything externalized and creating a character that not only includes the beautiful, wood-nymphy magic of Winona Ryder but that also includes a lot of strength," she said. "I think we've accomplished it."
"Heathers" owes some of its popularity to the originality of the subject matter; at the time, the stories of teen killings were less familiar than today, Weed said. "This movie was the first movie of its kind that didn't have a fluffy, happy kind of ending movie. Now they do, but people at the time weren't executing huge, grandiose murder fantasies on their classmates. No one was really talking about how horrible, horrible, savage high school is," Weed said.
While it's probably been the most challenging role of her life, Weed also said it's incredibly fun. "I think the hardest part of it is accepting in your brain that you can do it, that you're capable of being onstage and singing and screaming and crying and fighting while jumping off platforms and doing everything else that happens in the show," Weed said. Weed is present for nearly all of that strenuous activity, being offstage for only a minute and a half, excluding intermission. In order to keep up this active lifestyle, Weed has cut out drinking and nearly all sugar, except for the red vines her character eats onstage, much to Weed's chagrin. "Red Vines taste like strawberry plastic. They're not good, but you gotta stay true to the time period," Weed said.
"I always joke with Ryan" Weed said, referring to her castmate Ryan McCarten, who plays her onstage boyfriend, "that we have a nickname for our friendship, as well as our imaginary stage couple: 'Prince and Princess of Darkness.'" While her first Broadway show was the more lighthearted "Lysistrata Jones,"  (a show about cheerleaders who withhold sex to motivate their basketball team, an adaptation of the Greek comedy), she truly cut her teeth as "Nadia," the perpetually overlooked and deeply damaged Catholic schoolgirl in "Bare," after graduating from Elon University in 2011. "She's a very special girl; I love Nadia," Weed said.
"Winona Ryder was one of the first people to kind of develop a sort of dark but beautiful, strange princess character, and those are the kind of parts I play, because of how I look but also because I have kind of a low voice, and it's who I am," Weed said.
For Weed, playing the "underdog" gives her great joy. "It's actually a lot more fun and a lot more rewarding than being the glossy, perfect person in any project," Weed said. "Real people have brains and dark urges and no one is a squeaky-clean, pure person."
Ironically, though she tends to play "characters that remind people of vampires." Weed's advice to budding performers is to seize the day. "You have to get out of bed every morning. There can't be days where you lay in bed all day. You have to just want things more than the people around you. That's what made me." Weed seems to think that her hard work is paying off, because as far as her big break goes, "this might be it."