'The Labyrinth of Desire' Opens in Pope Auditorium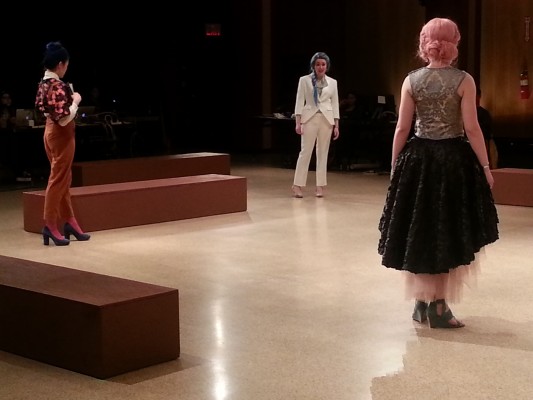 "The Labyrinth of Desire," the last production of the Fordham Theatre Program season, opens Thursday, April 3 in the Pope Auditorium at Fordham College at Lincoln Center (FCLC). Adapted from Lope de Vega's "La prueba de los ingenios" by Caridad Svich, the play pokes at the mystery behind love and sexual desire.
Written in the 1600s, "La prueba de los ingenios" (Spanish for "The Test of Wits") explores themes very much ahead of its time, including gender norms, sexual attraction and the creation of one's identity. Svich has recently adapted and translated Vega's play for a new audience, keeping these themes alive through updated dialogue and characters.
"The Labyrinth of Desire" is a comedy that follows an array of characters trying to find true love and chasing sexual desires in a small village. Evan Bretchel, FCLC '16, plays Alejandro, an ambitious social climber who leaves his fiancé Florela (Aishling Pembroke, FCLC '14) to compete with other suitors for Laura (Shea Kelly, FCLC '14), the richest and most beautiful woman in the village. What ensues is a mix of secret identities, comedic twists and interesting turns.
"The biggest challenge has been adjusting to the space. I'm an actor [who] likes to have a barrier to hide behind, but this production is all over the place," Bretchel said.
"The Pope Auditorium has never been used this way before; we use the space in a very unique way," Jessi Hill, the show's director, said. Hill has directed two White Box studio productions before at Fordham, but this is her first time directing for a mainstage show. "I hope the production inspires people to look at the theater in a different way," she added.
"Expect to have a great time exploring how mysterious human desire and attraction is," Bretchel said. "It's going to be a blast."
IF YOU GO
The Labyrinth of Desire
When: April 3-5 and April 9-11. All shows are at 8 p.m.
Where: Pope Auditorium (113 West 60th Street)
Price: General Admission: $15
Fordham Alumni and Faculty: $10
Students and Senior Citizens: $5
RSVP:  Via phone: (212) 636-6340 or via email: [email protected]