The New York Giants Are Finally Learning to Let Go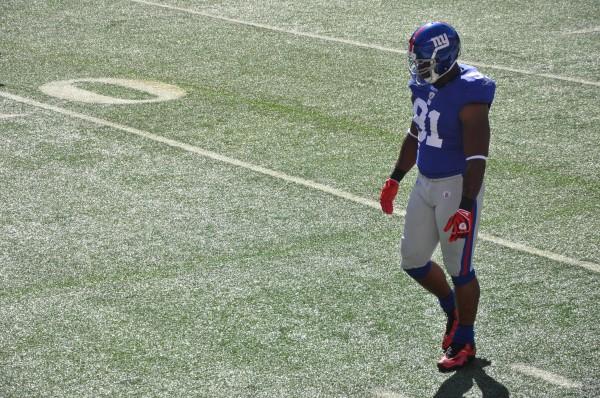 The New York Giants recently cutting ties with Justin Tuck and Hakeem Nicks may enrage fans right now, but the transactions might be best for the team's long term goal of another Super Bowl ring.
I really don't want to like these deals. Justin Tuck, two time NFL champion, former defensive captain and this writer's favorite player, has been given a fate worse than death.  That being two years on the Raiders. Hakeem Nicks, one of the team's star receivers when healthy, has been signed to the Colts for about $4 million, which, to most NFL teams, is essentially nothing. Both of these players could have been re-signed by the Giants, but weren't. Even though the irrationally enamored fan in me wants to scream about the Giants letting Tuck end up in Oakland or, for that price, letting Nicks end up anywhere but back in New York, the rational part of me thinks these were savvy moves.
If the Giants can be described under the ownership tenure of John Mara in one word, it would be loyal.  When Mara continued to have faith in Tom Coughlin and Eli Manning as they struggled to not be mediocre, many fans were upset about the owner's unwillingness to make drastic, franchise altering moves.
He chose to instead believe in his curmudgeon of a head coach and quarterback who always looks like a newborn trying to understand calculus. Two championships later, Mara's faith has been completely vindicated.
However, unlike other successful teams like the Patriots, the Giants have tended to allow members of the organization to stay on long enough over the last few years to stop being assets and start being liabilities.
While Mara hwas correct in trusting in Coughlin and Manning, his loyalty to General Manager Jerry Reese seems perplexing. Truthfully, Reese has built two championship teams but his track record has been spotty at best in terms of scouting and player evaluation in the draft and free agency.
For every Victor Cruz or Ahmad Bradshaw he has discovered in a late round or as an undrafted free agent, there's been a Ramses Barden taken with an early draft pick. For every Antonio Pierce signed in free agency, he has splurged money on almost comically bad deals for a Rocky Bernard or a Brandon Myers. Even worse, Reese's inability to draft for need seems to continually leave the roster thin at key positions such as linebacker or tight end.
Much like the general manager who put them on the roster, many players have been allowed to continue being on the Giants regardless of their inability to produce on the field.  Players such as Corey Webster and Terrell Thomas have managed to stay on the Giants for long terms even though one player has a gruesome injury history and the other couldn't defend the sloth from Ice Age on a post-route, let alone Calvin Johnson or Josh Gordon.  The resigning of players such as Aaron Ross and Brandon Jacobs seem to only stem from the fact that they have worn a Giants uniform for Mara, especially when other, better players were on the market.
Surprisingly, the Giants organization has begun to cut loose from less desirable personnel, which leads us back to Tuck and Nicks. The precedent seems to have started with the "retirement" of Kevin Gilbride.  Tom Coughlin's longtime offensive coordinator has since been replaced by Ben McAdoo, a younger coach who apparently plans to invigorate the stagnant offensive playbook that has plagued Eli and his receivers. The Giants have only begun to replace members of the organization with hungrier, more innovative contributors.
We as a fanbase tend to overvalue the players of our favorite team.  In my eyes, Justin Tuck will always be the player who terrorized Tom Brady during Super Bowl XLII, but objectively he's a player who was ineffective for two years and then decided to regain his dominant form in a contract year. Hakeem Nicks will always be the superstar wide receiver one of my friends from high school "proposed" during pregame, but he had been rattled by injuries, looked like a shell of himself last season and was not even the best pass catcher on his team anymore.
Objectively, it was the most prudent decision for the Giants to move on, and as the signings of players like Rashard Jennings and Dominique Rodgers-Cromartie, the future might be brighter than we as a fanbase think.
Justin Tuck and Hakeem Nicks will always have a place in the hearts of Big Blue fans, but the Giants finally learning to progress instead of staying stagnant will only improve the franchise for years to come.