Tapio is the Breakout Star for Women's Basketball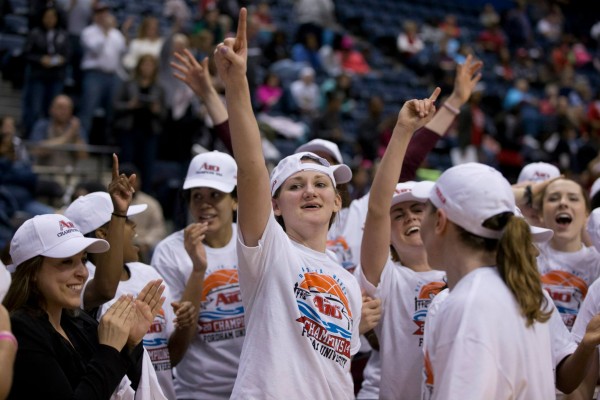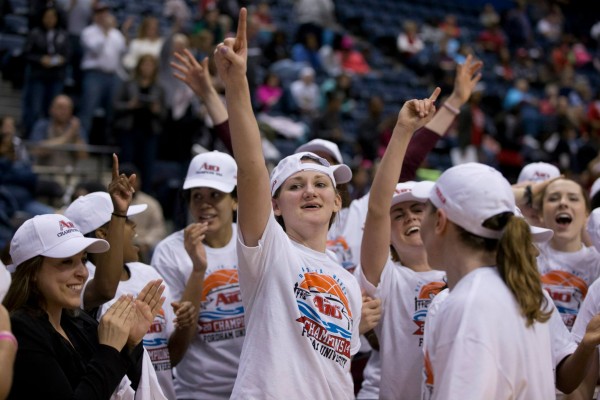 A broken ankle in the 2012-13 season forced Emily Tapio, Fordham College at Rose Hill (FCRH) '15, off the court for three months. The following year, she missed the first 10 games of the regular season, once more due to the injury bug. For the first time since joining the Fordham women's basketball team, Tapio has completed a season with a clean bill of health. And the native of Brewster, N.Y. has had quite the year.
As the Atlantic 10 (A-10) championship winning team stood in front of their supporters in Richmond, Va., Tapio was celebrating both the team's success and her own personal health strides. "I am blessed this year to be able to have played a whole season. It felt great to be able to contribute in any way that I could to help the team become a winning team," Tapio said. "Injuries are part of the sport, and they have only made me stronger mentally."
Her strong mentality helped to spark a late-season burst of offense. Throughout the three-game A-10 Championship tournament, Tapio scored 24 points, had eight assists and averaged 6.1 rebounds per game. Tapio and her teammates were especially motivated by their competition in all three games. Fordham played Duquesne University, St. Bonaventure University and the University of Dayton. All three teams had previously beaten Fordham during the regular season.
"It was basically a revenge tour for us," Tapio said. "We just kept saying 'take this team, take this team that beat us.' We went into it with that mindset, wanting to get something back that we didn't get in the season."
Besides her offense, Tapio kept a strong defensive presence in the A10 final against the University of Dayton. She helped to hold off Dayton's star forward Ally Marlott from scoring most of the game.
Tapio's success this season stems from bridging gaps that she saw forming on both the offensive and defensive sides. "I really just filled in where other people were struggling a little bit over the season," she said. "So if anyone was struggling with shots or anything, I would step up and help them whenever I can."
Team captains Abigail Corning, FCRH '14, and Erin Rooney, FCRH '14, led the team in scoring all season long. But Tapio likes to play the supporting role in order to give the team more balance. Throughout the season, Tapio managed 9.8 points per game, 6.2 rebounds per game and an average of 2.7 assists per game. This all occurred in an average of 28.1 minutes played per game. "Personally, for me, I just wanted to get the team to where we needed to be in the playoffs," she said. And her team-first mentality will be much needed next year, after Corning and Rooney both graduate.
"I have some really big shoes to fill from Erin and Abigail. But they left us with a really good core and an example of what to do. You don't have to lead just by being captain. I'll do whatever," Tapio said. However, if she were given the option to become the next captain of the team, she would be honored.
For now, Tapio is taking it all in. She participated in the team's immediate celebration after returning to Rose Hill from Richmond. "We were met by a group of students outside the gym when we returned," she said. "After we rang the victory bell, we had a reception in Dagger Johns. Our team has been celebrating ever since."
The ongoing celebration includes the team going to the salon and getting their nails done, as a means of relaxation.
Unfortunately, shortly after winning the A-10 Championship, Fordham competed in the first round of the NCAA tournament and lost to the University of California, 64-63. But Tapio still appreciates the chance to play in the national tournament at Baylor University in Waco, Texas.
"Baylor is amazing, and their facilities were awesome. So, getting to play on a court like that, and getting to play against an experienced Cal team really tests ourselves as a team," she said. "It's a classic March Madness game for us. We lost by one point and I wouldn't change anything about the game at all. It was a great experience, and we know we could advance in the future."