Lawyer Seeks Justice for Jesuit Massacre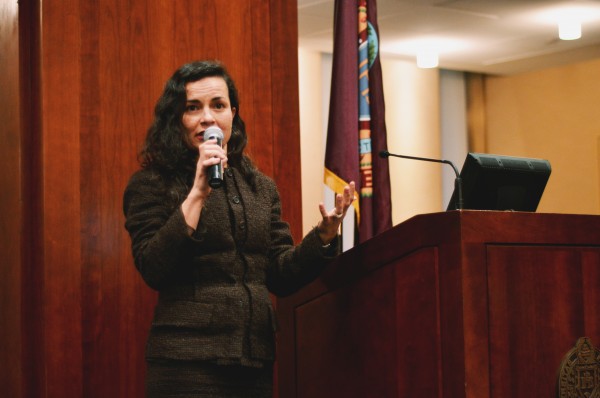 The Latin American and Latino Studies Institute and the Institute of International Humanitarian Affairs at Fordham College at Lincoln Center (FCLC), in conjunction with Columbia University Seminar on Latin America, hosted Almudena Bernabeu, international attorney and Transitional Justice Program Director at the Center for Justice and Accountability (CJA), to discuss the prosecution of the case of a 1989 Jesuit massacre in El Salvador. In total, six Jesuits were killed in addition to two women who were sharing the Jesuit residence.
"I knew each one of the six Jesuits that were assassinated," Dr. Margaret E. Crahan, senior research scholar at Columbia University's Institute of Latin American Studies, said during her introduction to the night's event. "Some of my students wanted to know when this happened; they couldn't conceive of it happening, those of us who were working in the human rights field at the time remember it very very well—and with great pain."
Bernabeu was part of the team that sought justice for the crime; as stated on the CJA's website, "in 2008, CJA filed a criminal case in Madrid against former Salvadoran President Alfredo Cristiani Burkard and 14 former military officers and soldiers for their role in the murder."
Currently, the case is waiting on one key component, the extradition of the Inocente Montano, El Salvador's former vice minister of defense and public safety. He is currently serving a 21-month stint in a state prison in Massachusetts for immigration fraud.
"That's not ideal," Bernabeu said, "but it's better than nothing." She hopes to move forward with the case in Spain upon his release and extradition.
Are you at all worried about him not being extradited? one student asked afterwards.
"You are absolutely right; when I think about this, I have a bad night," Bernabeu replied, eliciting laughter from the crowd.
The student apologized, to more laughter.
"No, it's okay!" she said. "I set myself up for this. It's my fault!"
Bernabau said that one of the main problems facing the prosecution is the American attitude towards extradition.
"The United States, in my experience, is not a country that likes to cooperate," Bernabeu said. "In that way, I am kind of sailing against the waves."
How do you keep your hope? another audience member asked, even questioning how she would deal with knowing that justice might not even be brought about in her lifetime.
"That's a tricky question," she said, to even more laughter. "I will say one thing; I am very optimistic. It is my nature."
She admitted that she sometimes struggles with her position—"I question myself daily, or weekly. It depends on the month."
"But Jon de Cortina, another Jesuit and a dear friend of mine from El Salvador who has passed, said,'But if you don't do it, then who the hell is going to do it?'"
"So that is what I say to you," she said, addressing the audience directly. "If you don't do it, who the heck is going to do it? If you have it, you feel that you can do it, just do it. You will find the way. It's going to happen."