'Palas por Pistolas' to be Displayed in Butler Gallery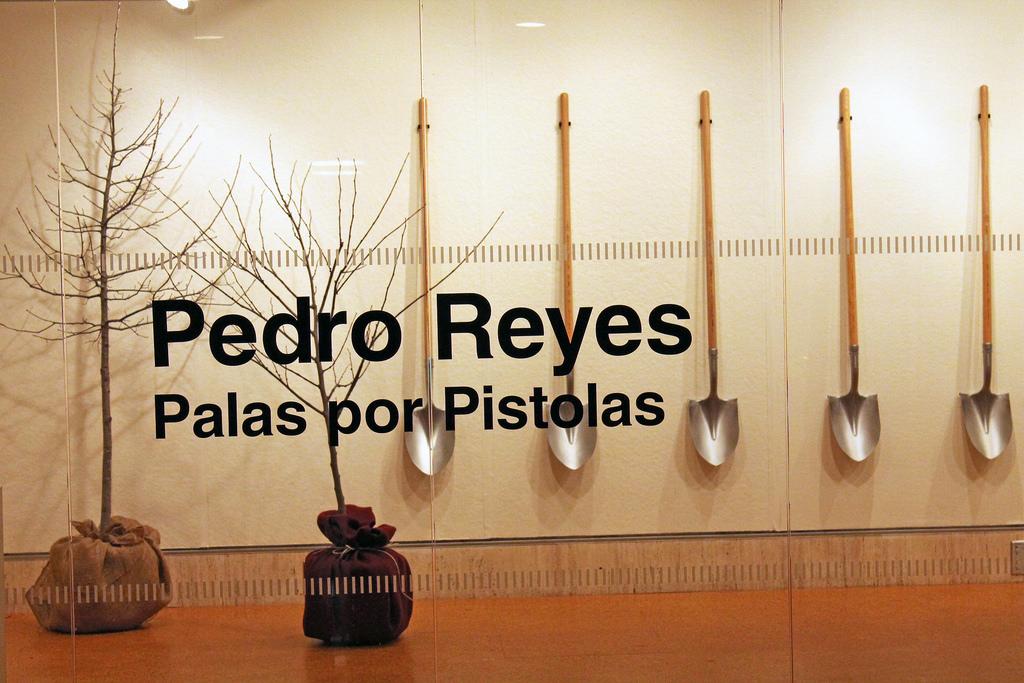 From Sunday, March 16 to Monday, April 14, students at Fordham College at Lincoln Center (FCLC) will display and continue Pedro Reyes' ongoing project "Palas por Pistolas" in the Ildiko Butler Gallery.
In an effort to advocate for environmental conservation and to protect against gun violence, Reyes, the artist who started the exhibition, collected 1,577 guns. Then, through a process of crushing and melting these guns, Reyes transformed these violent weapons into shovel heads; "Palas por Pistolas" is Spanish for "Shovels for Gun." This artwork and project will be featured at FCLC, where students and faculty can observe the display that supports the protection of human rights and encourages respect for the environment.
"The actual exhibition [in the Ildiko Butler Gallery] consists of videos, which will explain the whole process of how the guns were collected and fashioned into shovels," Jo Anna Isaak, professor of art history and John L. Marion Chair in Art History, said. "On display will be 10 of the shovels and 10 trees, which we will plant on Earth Day."
Approximately 40 art history students from various art courses, such as Museum Methods and Materials, Art and Ecology, as well as Art and Human Values are participating in the exhibition. "For students in the museum and exhibition course, they will have the hands-on experience of curating an exhibition course and all that that entails, from designing the announcement card, to writing the catalogue, to installing the exhibition and acting as docents for visitors," Isaak said.
"For students in the art and ecology course, it is a good example of how contemporary art can engage with environmental and social issues," she said. "For students in the senior values course [Art and Human Values], it will enable them to actively engage in an art project that will take them out of the gallery and into the community."
Claire Fields, FCLC '16, who participated in putting together "Palas por Pistolas," is a student in Isaak's museum Methods and Materials course. "[Isaak] broke the class up into two groups: the installation group, which wrote the wall texts and designed the set up of the exhibit and the graphic design group, which put together the postcards and posters around the school," Fields said. "I worked on writing the press release and designing the postcards. It was great hands-on, curatorial experience."
Shauna Ling-Choung, FCLC '15, who is also a student in Isaak's museum Methods and Materials course, was a part of the installation group for "Palas por Pistolas." "I worked on the setup; it consisted of working on where everything would go to make the exhibit aesthetically pleasing," she said. "In particular, I worked on putting together the videos on the monitor of the exhibit."
Anna Devine, FCLC '16, is a student in Isaak's Art and Ecology class. "I have participated through co-writing the catalogue for the exhibition as well as editing it," Devine said. "In addition, I will be helping to set up the exhibition and I will be giving tours and answering questions about it."
Students expressed how "Palas por Pistolas" is unlike any exhibit featured at the Butler Gallery. "['Palas por Pistolas'] is a very interesting exhibition, in that it is not like a typical, classic exhibit with paintings and sculptures," Fields said. "This artwork is more participatory for the community. There were many obstacles in thinking of how to display the show, but we realized that it is more about the idea and concept that we are trying to portray. It was fun putting the show together."
"Pedro Reyes is an artist concerned with showcasing ideas and social problems to the community. [Students] also wanted to be a part of getting an audience and art into conversation," Ling-Choung said. "This is the first time Reyes' show is being featured in New York; we are grateful that he has let Fordham be the place to show 'Palas por Pistolas.'"
IF YOU GO
"Palas por Pistolas"
When: March 16 – April 14, 9 a.m.-9 p.m. daily, except on University holidays
Where: Ildiko Butler Gallery, Fordham College at Lincoln Center
Price: Free