New Year, Same Challenges for "The Vagina Monologues"
"The Vagina Monologues," written by Eve Ensler, is an episodic play of candid monologues which explore feminism, sexual violence, the female body and the power of female sexuality. With financial assistance from the Women's Studies department, but without funding from the Office of Student Leadership and Community Development (OSLCD), a group of Fordham College at Lincoln Center (FCLC) students are going to perform the production in April.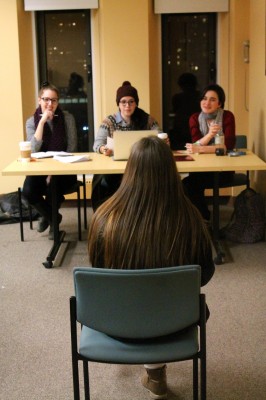 Since as early as 2003, "The Vagina Monologues" has been rejected as a school-sponsored club event. Because the production is not affiliated with OSLCD, any administrative offices or student clubs, participating students rely on academic departments for financial assistance and university support. The clubs have their own separate budgets. Without the approval from OSLCD directly, the show's management is riddled with issues and restrictions that sponsored club events don't have to deal with.
"The hardest part is reserving rehearsal space," Wallis Monday,  FCLC' 16, a member of the show's production team said. "I don't care about Fordham's opposition anymore. These issues are just something we've gotten used to. It's no longer a passionate struggle. We've accepted this is just something we have to go through to put on the show," Monday said.
Funding for the performance goes to various production needs, which are relatively cheap. Acquiring the rights to the play is done with a $75 deposit to "V-Day," Ensler's foundation to end violence against women. Props and costumes are minimal; students work together to scrounge up materials by themselves. Most of the money goes to buying items sold at the production itself and for advertisement. Proceeds from sales made at the show are donated to women's empowerment and anti-rape foundations. Last year, the production raised $1,530 for GEMS, an organization that supports survivors of sex trafficking.
The most potent source of administrative opposition is traced to a monologue entitled "The Little Coochie Snorcher That Could," in which a 16-year-old woman gets drunk and subsequently has sex with an older woman. Grounds for rejection have centered on Fordham's opposition to underage drinking and some consider this episode as condoning statutory rape.
Monday, an English and art history major, drew a parallel to book-banning and added that a university should not have incentive to oppose any topic of conversation. She pointed to other works of literature she read at Fordham which deals with similarly scandalous or taboo subjects.
Nadia Pinder, FCLC '14, who has participated in "The Vagina Monologues" since freshman year, was the performer of "The Little Coochie Snorcher That Could" in her first production, a character that Ensler based on an interview with a homeless woman recounting her sexual awakening in the 1960s. Pinder said that grounds for using the scene's underage drinking to argue against the production as a whole were "petty."
"The Theatre [Program] performs 'inappropriate' productions all the time. In the last play I saw at Fordham, there was a lynching scene. The school sponsors the production but, of course, does not condone lynching. 'The Little Coochie Snorcher' is just a front for Fordham to oppose 'The Vagina Monologues' and keep it off the radar," Pinder said.
"The Vagina Monologues" received attention last year when the theology department donated money to the production, a landmark action that directly challenged Fordham's ethical objection to the production. The passion has simmered, Pinder added, and sees no dramatic change in sight. "Violence against women, unlike something like marriage equality, is not a national issue. Fordham doesn't like to be first to make a big change, so unless there is cultural pressure to accept the production, there probably won't be any advances in producing the show."
This issue is not new at Fordham, but with each year of administrative difficulties, the effects are felt on a more personal level. "It's sad to know that your school doesn't support a production that is so cathartic for many students involved who are survivors of sexual violence or have been affected by sexual violence. Fordham's reputation seems to be more important," Pinder said.
Keith Eldredge, dean of students at FCLC, has spoken about "The Vagina Monologues" extensively with The Observer. In March 2012, he told The Observer that "'The 'Vagina Monologues' is not supported by the administrative units of the University, including the departments in the division of Student Affairs." However, he did assist in having FCLC Counseling Services attend the production to help students cope after the emotional final monologue, adding, "as administrators, we are very concerned about sexual violence and pleased that we were able to collaborate on this initiative." Students involved with the production intend to host FCLC Counseling Services again this year.
The leaders of "The Vagina Monologues" have reached a level of mutual respect with the administration in this situation. "We understand that the administration has to defend us no matter what, and we appreciate staff members who support our goals but may not agree with how we achieve them," Pinder added.
Kirstin Bunkley, FCLC '15, is performing "The Little Coochie Snorcher" in the 2014 production, having performed the same monologue last year. She stressed the importance of having "The Vagina Monologues" performed in college for student audiences. "When I saw 'The Vagina Monologues' my freshman year, my eyes were opened to the horrors of sexual violence. Watching the show and learning about feminism and sexuality is no different than taking a philosophy course and learning about Plato. College is the time to learn about the real world before we enter it. This is one of few environments to feel comfortable and ask questions about these topics," Bunkley said.