Written and Starring "#Adaire" Kamen
"#Adaire," a new play by Adaire Kamen, Fordham College at Lincoln Center (FCLC) '14, opens on Monday, March 10 and runs through Wednesday, March 12 in the Veronica Lally Kehoe Studio Theatre.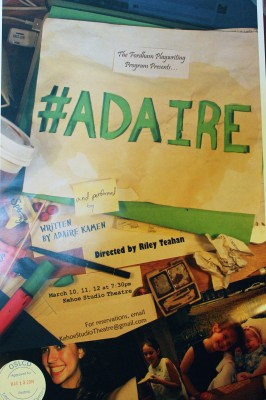 Centered around the idea of social media, "#Adaire" has been different from other studio productions as it has had no auditions and has been a work in development, allowing for constant change and exploration rather than rehearsal and blocking, according to Kamen. "I just wrote a new scene two days ago," Kamen said, demonstrating the versatility of the rehearsal process.
Why no auditions? It's a solo show. As can be more or less derived from the very title of the piece, "#Adaire" is a show about Kamen, who wrote the show and will be performing the show solo. The theme of social media will be revisited in her writing in the future because of its prevalence, Kamen said.
"#Adaire" was, as Kamen explained, planned to be a solo show from the very beginning. After taking a theater class called "Flying Solo" with Daniel A. Jones, associate professor of theatre and head of the playwrighting track in the theatre program, in which everyone had to come up with a seven-minute solo piece, the idea of writing and performing her own work was "fascinating and scary," Kamen said. A solo show would allow her to discover new aspects of herself as a writer and a performer and delve into the depths of theater.
That seven-minute piece, after many edits, rewrites, additions and deletions will be brought to the Kehoe Studio. Overcoming the challenging process of writing a one-woman-show for the first time, she has been fortunate enough to have a "nurturing community" that made the "the production possible," Kamen said.
IF YOU GO
"#Adaire"
Where: Veronica Lally Kehoe Studio Theatre
When: Mon.-Wed. March. 10-12, 2014
Time: 7:30 p.m.
Price: Admission is free, but seating is limited. Email [email protected].