Fordham Professor Clarence Ball Wins Emmy
Professor Clarence Ball, lecturer at the Gabelli School of Business, who teaches business communications recently won an Emmy for the documentary he produced, "Looking Over Jordan: African Americans and the War," a film that details the African-American experience in the South before, during and after the Civil War. After years of teaching in Tennessee and a whirlwind of professional success, Ball has just finished teaching his first semester here at Fordham.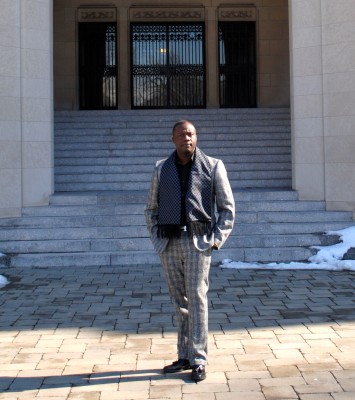 Ball grew up in Houston, Texas, which, he said, "is an overlooked melting pot of diversity." He often gives lectures to students on how important it is to experience different cultures during one's childhood. "I attended a predominantly African-American elementary school, a predominantly Muslim middle school and a predominantly white high school, which was very unique and definitely positive experience," Ball said.
After graduating from Tennessee State University, majoring in speech communications with a minor in theatre, Ball attended graduate school at Michigan State University with a major in journalism. All three of these disciplines  are utilized in "Looking Over Jordan."
"I was called in to help with the project by bringing in African-American scholars that had a specific knowledge of Tennessee. It was my first journalistic job and I really believed in the goals the documentary was trying to achieve," Ball said.
"Looking Over Jordan," combines interviews with different African-American scholars, photographic footage and primary-source documents to demonstrate how the Civil War affected African Americans of the former Confederacy. "The Emancipation Proclamation and Civil War were not the end-all solutions to the system of slavery in the South. African Americans were left with a huge learning curve and tried very hard to educate themselves by any means necessary," Ball explained.
Ball elaborated on an incredibly striking segment in which a black child asks his master's white child how to spell his own name. "That part truly fascinated me and really encapsulated the educational disconnect in the post-Civil War South," Ball said. "We know now as African-American scholars that it's not enough to orally tell a story, we have to write them down."
Working as an associate producer, Bell won an Emmy Award for Outstanding Achievement in Historic/Cultural Programs for the mid-South region, including Tennessee, Alabama, North Carolina and South Carolina. "You'll never know where a new opportunity will come up. I'm fresh out of graduate school and I've already won an Emmy on my first professional journalistic endeavor. It's crazy," Ball said.
Attending Tennessee State sparked Ball's interest in African American Studies. Located on Jefferson Avenue, Tennessee State University is in walking distance to Fisk University, a historically black university founded in 1866 and Meharry Medical College, the first historically black medical school founded in 1876. Spending time on this avenue, a strong cultural landscape for African Americans, heightened Ball's interest and dedication to African-American history. "My work and research in this field has been me asking questions that I'm sure other African Americans may have, and providing these answers allows us to have a working network of our history," Ball said.
Black History Month is often a point of debate for African-American scholars. Some underscore its importance while others critique its concision. Ball's position is that "the most important part of Black History Month is educating not only the African-American community but also others outside the race of a long history. Black history is not only slavery, it is thousands of years of a documented people and past whose civilization doesn't start with the middle passages and end after the Civil War. In an American context, this past is not included in educational curriculums, and Black History Month is a time, however short, to consider that."
Ball is currently teaching undergraduate business at The Gabelli School of Business. Previously, he taught at his alma mater, Tennessee State University. For Fordham students interested in journalism, Ball said, "As journalism moves from print into more competitive mediums, it is important to have a breadth of knowledge in different ways of communicating, so that if print dies, and I hope it doesn't, we have something as journalists to fall back on no matter what."
"Looking Over Jordan" can be viewed at video.wnpt.org.