Fordham Alumna Makes Broadway Debut in "After Midnight"
"After Midnight" opened in November just a few blocks from Fordham College at Lincoln Center (FCLC). But there is also a familiar name performing with stars like KD Lang and Dulé  Hill; Fordham alumna Taeler Elyse Cyrus, FCLC '08, is making her debut on Broadway in this show about the notorious New York Cotton Club, the Prohibition speakeasy, and the 1920s Jazz Age.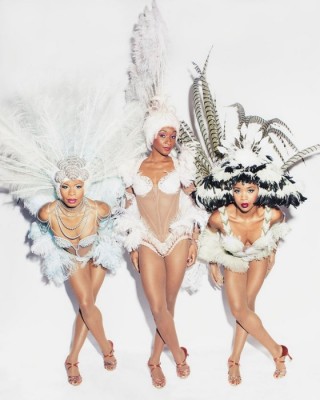 "It's unreal, honestly," Cyrus said of her debut. "I had no idea where my career was going to take me, and to be a part of a production from the beginning has been something I never could have imagined."
The New York Times describes "After Midnight" as a trip "back to the heyday of the Cotton Club, the Harlem nightclub (with a Broadway spinoff) where Ellington was the bandleader for a heady spell, and where many of the black jazz greats of the 1920s and 1930s performed …" Cyrus describes the show as an homage to the music and culture of the Jazz Age and the show explores "what [the musicians of that time] brought to the stage and trying to bring it back to the stage in a new and current way." She touts it as an celebration of "the legacy of dance."
Cyrus' experience in "After Midnight" has been overwhelmingly positive and the cast is "like a tight-knit family." From the other dancers to the guest stars such as 2004 "American Idol" winner Fantasia Barrino, the Grammy-award winning KD Lang and TV and film's Dulé Hill, Cyrus said everyone is part of the team and learns from each other. Cyrus even conducts a daily ballet class in which she teaches Hill. "We warm up together before [the show] and we get a chance to chitchat. I talk to him about his career and the paths that he's taken to Broadway and movies and television," Cyrus said. She describes her first foray into the Broadway world as less dramatic and catty as the creators make it out to be on "Smash." "So many people have this perception of Broadway as being really cutthroat, rigorous and hard," Cyrus said, "and it is rigorous and it is hard, but at the same time, it is great to be with people that are supportive … to help you with your journey. I'm having a great time"
Originally from Los Angeles, Cyrus came to Fordham to study dance. "[Dancing professionally] was something I knew I wanted because I knew I wanted to study it as well, and I was pretty sure I wanted to be in New York," Cyrus said. She chose Fordham because she was attracted to the dance program at Alvin Ailey. "The program was extremely rigid, and I needed that. I knew that I'd make some great connections and I was always interested in a dance school, so it wound up being perfect."
In a competitive field like dance, Cyrus has, by most accounts, thrived, working with companies like the River North Dance Chicago and the Metropolitan Opera. Cyrus points to dancing at the Opera in their production of "Faust" as one of the highlights of her career so far, and it was her "first experience being on such an enormous stage," Cyrus said. "The choreography was fun and had some great dancers that I've worked with, and the singers were really amazing, so it was really nice to be onstage with all the opera singers and see how they work," Cyrus said. "The environment was really laidback, and it was really just a great experience and really rounded out my career."
While Cyrus is proud of her whole body of work, she does admit that there are slow times in even the most fruitful careers in the arts. When she has been between major projects or had "times where I had difficulties booking jobs," she would "do a lot of workshops and that kept me inspired. And I freelanced when I was between jobs, so when I did those gigs, it was a chance for me to hone my craft and meet new people and make connections, but I never really got to the point where I thought 'I'm just going to give it all up.'"  She adds that no matter how small the project she is working on, it gives her "a chance to dance."
Cyrus urges budding Fordham performers to "stay open. Your mind should stay open because you never know where your career is going to take you and try to make as many connections as you can in every situation that you can, because you never know where those connections are going to take you."
"After Midnight" is now playing at the Brooks Atkinson Theatre.