Michael Sam Makes LGBTQ History Within the NFL
Michael Sam may not be the strongest or fastest prospect to declare for this year's draft, but he may be the bravest in NFL history.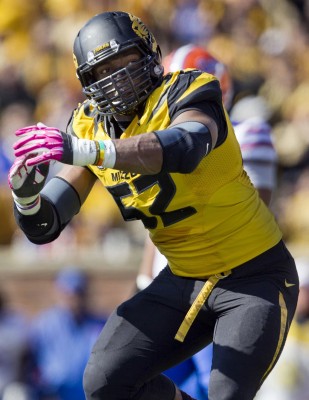 The NFL combine is about to commence in the next few weeks, signaling the beginning of the draft process in which college athletes attempt to show professional teams their skill sets. Surprisingly, the most important story of the draft this year has nothing to do with who the Houston Texans will take number one overall. Instead, America's eyes have been focused on a young college graduate projected to go in the third round.
Sam will not be the first or even second athlete from a major American sport to come out publicly. Los Angeles Galaxy winger Robbie Rogers and NBA free agent Jason Collins both spoke publicly about their sexuality last spring. However, what separates Sam from these other trailblazers is just how young he is.  Collins had already played 14 seasons in the NBA and Rodgers had been playing professional soccer since 2005.
Sam has no such professional experience. He is an accomplished collegiate player. He was named the co-defensive Southeastern Conference player of the year in his final season as a member of the University of Missouri Tigers. But he is an unknown neophyte in the eyes of general managers and coaches in the league. He is a young man who will now have to endure the scrutiny of front offices, and the media as well, for being brave enough to be the first NFL prospect to be openly gay. Even after he is drafted, he will still have to persevere in a notoriously intolerant and harsh working environment; the NFL locker room.
Sports, like football, require players to be incredibly resilient physically and mentally to be successful, so this sort of ritualistic bonding is commonplace. However, at some point the hazing and jokes stop being team builders and start breaking down individuals. Michael Sam will no doubt have to endure the normal rookie treatment, but he may also be made a target due to his sexuality and perceived "softness" because of it.
Michael Knight, Fordham College at Lincoln Center (FCLC) '17, played organized high school football for Summit High School in Summit, N.J. He was exposed to the normal rituals of younger players carrying water and pads for the upperclassmen of the team. But he firmly believes that Sam won't be treated differently. "He won't be looked at differently because of his sexuality," Knight said. "Good players and teammates only judge based on hard work and ability. Whatever team drafts him will already know what they are getting."
However, Knight did express fear of a player on Sam's team becoming another Richie Incognito. The Richie Incognito bullying scandal has rocked not only the Miami Dolphins but the NFL at large. Incognito's ignorant and intolerable words toward Jonathan Martin overshadowed much of the previous season and has begged the question of whether or not some of these teams are prepared to have a gay athlete on their roster. "Sometimes, players think they are being helpful, but they go too far and cross the line, affecting a players' performance and emotions," Knight said.
Rainbow Alliance member Leighton Magoon, FCLC '17, wants the NFL to prepare for change. "The reality is whether or not teams are ready, the NFL must support and understand the importance of Sam's decision," Magoon said. "Michael Sam's announcement represents a proud moment for the LGBTQ community because Sam is breaking down stereotypes and bringing LGBTQ issues to the forefront.
"Sam could be a distraction, but only in organizations with weak leadership such as the Miami Dolphins," Magoon said. Instead, teams with strong leadership such as the Patriots, Steelers, Packers or Giants would be ideal landing spots for the defensive end.
No one can be sure which team Michael Sam will be drafted to. No one knows if he will succeed in the NFL or become one of the busts and forgotten players. However, in a way, that doesn't matter. Simply standing up and being unafraid to talking about being gay has made Sam one of the most important figures of both the LGBTQ and NFL history.