FCLC Hosts a Panel on Racial Justice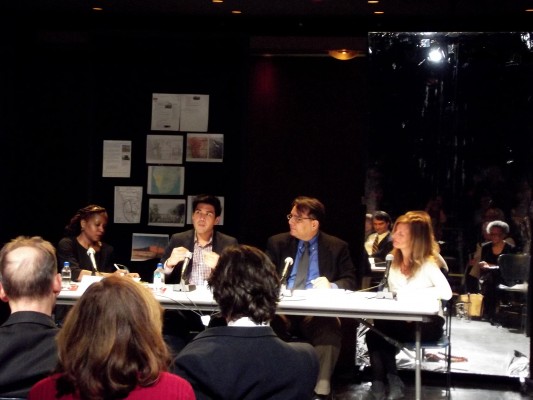 On Monday, Feb. 24, Fordham College at Lincoln Center's (FCLC) Fordham Theatre Program and the Fordham Center on Religion and Culture hosted a panel discussion entitled "Is Empathy Enough? Racial Justice and the Moral Imagination in the 21st Century." The panel, moderated by Assistant Professor of African and African American Studies Aimee M. Cox, featured actor Pun Bandhu, as well as scholars and authors Rubén Rosario Rodriguez and Ariela Gross.
The panel was preceded by a scene from FCLC's mainstage production of "We Are Proud to Present a Presentation About the Herero of Namibia, Formerly Known as Southwest Africa, From the German Sudwestafrika, Between the Years 1884-1915," written by Jackie Sibblies Drury. This scene tied in thematically to the topic of the discussion: whether or not empathy was enough of a springboard to foster understanding and propel change in American society's treatment of racial justice. The overwhelming response by the panelists was that no, empathy is not enough; the varying panelists' perspectives offered different solutions.
For Bandhu, who works mostly in diversifying casting for Asian Americans in theater, the problem is that "the arts are the only place where you're allowed to discriminate," he said. Many efforts to create multicultural casts in theater end up with white actors in lead roles, with people of color filling out supporting roles. With respect to empathy, particularly in his cause of diversifying theater, Bandhu said, "It's not enough just to care; it requires action."
Rodriguez, as a theologian, took on empathy from a Christian perspective, reminiscent of Jesuit theory as advocated by Fordham. For Rodriguez, the emphasis needs to be on "persuasion instead of coercion," he said.
Gross gave examples of racism and a lack of empathy throughout history and emphasized the importance of studying history to make a proper effort towards empathizing.
The discussion veered through topics on everyone's mind in today's media and culture, from cultural appropriation to education and the concept of being politically correct.
Courtney Romans, FCLC '17, found Bandhu's commentary engaging: "I think the panelists raised some really interesting points, especially with the relationship between race and theater."
"We Are Proud to Present a Presentation About the Herero of Namibia" runs through March 1.
IF YOU GO
We Are Proud to Present a Presentation About the Herero of Namibia 
When: February 19-21 & February 27-March 1
Where: Pope Auditorium (113 West 60th Street)
Price: General Admission: $15
Fordham Alumni and Faculty: $10
Students and Senior Citizens: $5