Remembering Zander Toulouse
Published: October 2, 2008
How many eight year olds do you know who are eager to share their favorite snack, are concerned for the well being of others and are deeply invested in politics? These unique, charming characteristics are what made Alexander "Zander" Toulouse, also known as "The Little Professor," an integral part of the Fordham community.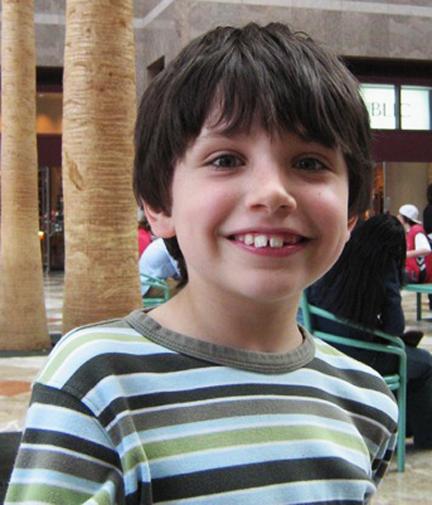 The son of political science professor Christopher Toulouse, Zander often sat in on his father's lectures and embarked on class field trips. Zander's life ended prematurely on Sept. 6 in a bicycle accident near his home in Brooklyn. He will live on in the hearts of Fordham students and faculty who had the opportunity to experience his zest for life and appetite for knowledge.
A key lesson in early childhood education is learning to share. While some adults never seem to catch on to this concept, young Zander was willing to hand over his favorite snacks to his father's students.
"Professor Toulouse had given [Zander] an orange as a snack, but then [he] came over to us and offered each of us a slice," said Stacey Trimmer, FCLC '07. "I remember Professor Toulouse giving him a puzzled look and then asking, 'Why are you giving away your entire snack?' I don't recall what Zander's exact response was, but I think it was something having to do with politeness and sharing. I didn't know what to do, but I believe my orange tasted very good."
Zander's generosity was only a small part of his dynamic personality. His passion for the MTA led him to the farthest corners of New York City and displayed his eagerness to absorb and share knowledge.
"I remember when we were heading back from Jersey City, he was giving directions to college students how to get back home because he was so familiar with MTA trains," said Jennifer Yip, FCLC '10. His devotion to conquering the full journey of every MTA train impressed students almost three times his age. "I remember being shocked that he had already been on every subway line," said Michael Kaplan, FCLC '07, "I knew a few people who lived their entire lives in New York City, and they never accomplished that feat."
Zander's expertise was not limited to the MTA. He was a Mac aficionado, adept at using computers from an early age. "One of the first stories I remember [Professor Toulouse] telling was about how then four-year-old Zander would go to the computer (a Mac, of course) and type 'Zander will not go in the bath,'" said Amanda Pizzuti, FCLC '07.
His fervor for politics, undoubtedly influenced by his dad, inspired students to educate themselves and become more involved. "I always hear Dr. T talk fondly of his son's passion for politics (and he's only eight). I always thought that should be enough to motivate apathetic young people to be involved, because if an eight year-old can understand how important it is to be politically engaged, then we, as adults, should be ashamed if we didn't," Yip said.
When he wasn't conquering the tri-state area by train, rousing interest in democratic participation or outperforming his elders on the computer, Zander was a social butterfly who delighted in the company of his loved ones and was always seeking out new friends.
When Kate DiGeronimo, FCLC '07, walked into Professor Toulouse's class one day, she "was carrying [her] books around in a red MTA messenger bag that had some subway line symbols on it." This prompted a brief discussion about the MTA store. "The next class, Dr. Toulouse told me he had told Zander that a girl in his class also loved the subway, and Zander, in response, had asked Dr. Toulouse if he could have a play date with me," said DiGeronimo, "I couldn't stop laughing. Dr. Toulouse also thought it was funny. I remember his words to me were: 'I told him "You're five, she's twenty!'"
Perhaps Zander's keen ability to bond with people of all ages originated from his extraordinary relationship with his father. "There are very few fathers who are so close to their sons. Even Zander's last moments of life were full of child-like, care-free happiness, which he got from spending time with [Professor Toulouse]," said Yelena Ambartsumian, FCLC '10.
Many students noticed the bond they shared and how the relationship aided in Zander's development. "He was a wonderfully intelligent and articulate boy who had a knack for explaining things," said Thomas Snyder, FCLC '10. "A mature young man who could sit for the hour, quietly munching on candy, only interrupting his father once with a request for more; a little guy who loved, more than anything, being with his dad; a monument to the way he was raised by his parents."
Although Zander will never have the chance to become a train conductor, the next Steve Jobs or a future presidential candidate, he will be remembered by the Fordham community as a young boy who had the potential to become all three. Moreover, his big heart will remain in the minds of students as they advance into the real world and will often need to be reminded to share their candy and  to open their minds to learning and loving, as Zander did so unabashedly.