Vanity Fair Isn't Worthy of Praise for Its Colorblind Cover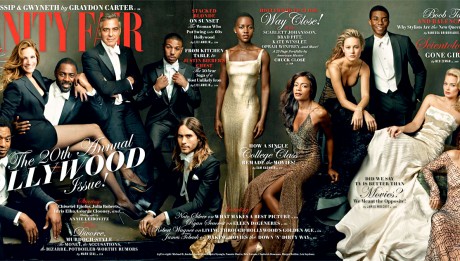 With awards season underway and the Oscars coming up next month, it's not unusual that many Oscar-nominated actors are gracing the covers of most magazines—unless we're talking about Vanity Fair.
In the beginning of February, it released the cover of its March Hollywood issue, showcasing 12 of the most distinguished actors of the year, six of whom happen to be black. Normally, people may disregard this tidbit of information, especially at first glance; however, this is probably the first time in 20 years that the publication has displayed an even number of white and nonwhite stars. The magazine is usually known for displaying one or two nonwhite actors on its three-panel gatefold cover but rarely on its front panel. The public's reaction to this year's colorblind cover has been mainly enthusiastic, ranging from tweets like "Progress!" to "This is a record!" Nonwhite figures like Tiger Woods and President Barack Obama have appeared on the front cover of monthly issues, but the last time a nonwhite actor appeared on the front cover of a Hollywood issue was in 2007 with Chris Rock, and this year, the cover featured a record three.
Most people are commending Vanity Fair for finally displaying a sliver of diversity, which is telling in and of itself. The fact that people are now only praising its efforts in what appears to be a meager form of diversity only affirms that this publication is undeserving of all the praise they're receiving. It can easily be the case that many of the actors who have done well-praised movies this year are coincidentally black; it doesn't mean that Vanity Fair has finally taken off its rose-colored glasses when it comes to Hollywood. Regardless of the intention, people shouldn't be so quick to give the magazine the benefit of the doubt when it was just four years ago that they had an all-white female Young Hollywood cover, implying that "Young Hollywood" is, according to Jezebel, "pretty, thin and white."
Vanity Fair is notorious for representing many more white actors on their covers than any other race or ethnicity. This isn't to say that other magazines don't exhibit a similar form of discrimination: Elle Magazine has been accused of lightening the skin color of nonwhite actors like Gabourey Sidibe from "Precious" and Indian actress Aishwarya Rai, even though they deny it. Not to mention, the April 2008 issue of Vogue featured Lebron James in a brutish pose alongside Giselle Bundchen and was accused of having an uncanny resemblance to a "King Kong" poster, which was taken to suggest that Lebron is a brute like King Kong because of his skin color.
What makes Vanity Fair so different is that their form of discrimination is more noticeable and habitual and the magazine has been called out on it by a commentator on its website, who argued, "Sick of Hollywood racism. Black and white is not diversity. It's easy tokenism. Where are the Latinos […] Where are the Asians? Where are the Native Americans?" While no Hispanic—or Native American—actors were really in the limelight this year, it doesn't justify Vanity Fair shoving nonwhite stars aside. Lucy Liu, Salma Hayek, Samuel Jackson and even Will Smith all bear witness to that. It's almost like a form of plausible deniability on the magazine's part because they can deny being discriminatory by including nonwhite celebrities on their covers, although they're hidden away in the foldout.
Even though last year's issue included two nonwhite actresses, Adepero Oduye from "Pariah" and Paula Patton from "Mission Impossible: Ghost Protocol," they're not on the front cover, unlike Jennifer Lawrence. I'll admit: J-Law is an amazing actress and she deserves to be on every magazine cover, but the edition is called Hollywood for a reason. It glorifies Hollywood by ostentatiously displaying actors who were exemplary in movies in a specific year, but it seems that Vanity Fair prioritizes profitability over notability.
They seem to position stars—who may be distinguished in their own right—based on how well-known they are and therefore, most likely to sell. After all, there's a reason why Julia Roberts and George Clooney ended up on the front panel of this year's issue—and most likely won't ever be shoved aside. They're part of the Hollywood Royalty—and of course, they're white.
It's high time for Vanity Fair to diversify its Hollywood covers. Its previous covers have indicated that Hollywood is, in fact, swarming with white stars or at least doesn't value diversity. We can praise this year's cover as much as we like, but that won't erase the magazine's history of discrimination. Only time would really tell if Vanity Fair has finally mended its ways or if the March cover is just serendipitous.