The Best and Cheapest Little Eats in Chinatown
According to the Chinese lunar calendar, the zodiac symbol for 2014 is the horse. I decided to celebrate by going down to Chinatown and finding the best and cheapest gems the neighborhood has to offer. In addition to being reasonably priced, I searched for unique and traditional Chinese baked goods and small dishes. While enjoying the sights of dragon dancers and crowds armed with confetti cannons, I sampled delicious eastern favorites, like egg tarts and arguably the best dumplings in Chinatown. Here is my delicious journey: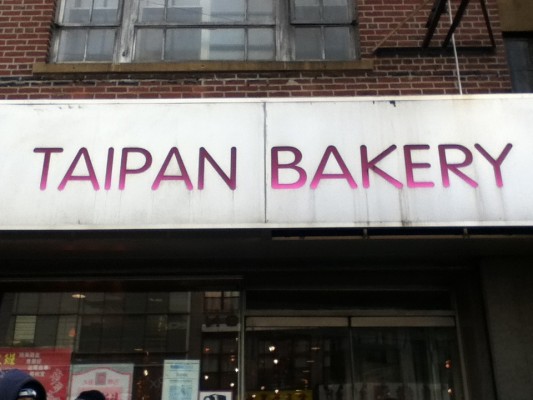 1. Taipan Bakery
194 Canal St
Walking in, one is greeted with a roar of noise. The busy bakery was filled with numerous customers calling and shouting orders for all kinds of delicious pastries to a swarm of salesgirls behind the counters. After researching egg tarts and custard buns, the general consensus was that Taipan makes the best in the city, and I decided to see for myself. As I was waiting by the bakery counter, I spotted a fried puff of dough. Upon inquiry, a sales assistant informed me that it was a fried curry beef fritter. They looked too good to resist, and I decided to be adventurous and ordered one too. First, the egg tarts were delicious. I ordered two different kinds, a traditional egg tart and a Portuguese egg tart. The traditional egg tart had a prominent egg flavor in the filling and had a slightly grainy consistency. However, the tart's buttery, flaky crust created a pleasing flavor combination, with the salt from the crust mingling with the slightly sweet custard. The Portuguese tart's custard filling was ethereally light and had a smooth consistency. The egg flavor was less prominent and the filling had hints of vanilla and sugar throughout. The custard bun was also delicious; a shell of crunchy egg and sugar crumb toppings gave way to an egg pastry cream filling. Coming from someone who dislikes eggs, the egg-baked goods at Taipan were amazing! The fritter was also a winner and unlike anything I have every tasted. When broken in half, the crisp exterior released billows of steam and revealed dense innards of mashed rice and beef. Overall, Taipan Bakery's Portuguese egg tarts, egg custard bun and beef curry fritter will ensure that I return soon!
2. Mei Li Wah Bakery
64 Bayard St
On a mission to find the best "big bun" in the city I headed to Mei Li Wah, which, according to Yelp and Menupages, apparently has one of the best. A "big bun" is a steamed bao bun (think steamed wonder bread) filled with a mix of Chinese sausage, beef and a hard-boiled egg. Mei Li Wah's big bun includes mushrooms, which I was not a fan of. Overall, the bun was good; the sausage was moist and sweet, while the beef was tender and salty. The hard-boiled egg added extra flavor and gave a more neutral taste to the meats' heavy filling. I also ordered one of their "famous buns," which turned out to be a sweet bread roll topped with sesame seeds. It would make for a delicious breakfast pastry and the flavor reminded me of challah bread with an eastern twist.
3. Wo Hop
17 Mott St
Wandering around Mott Street, I came across a line of people that extended halfway down the block. I asked someone in line what they were waiting for and was told that the best dumplings and egg rolls awaited me inside. Though I waited in line for 20 minutes, my efforts did not go unrewarded. The dumplings were fantastic. The shell was fried to golden brown perfection, and when bit into unleashed a dripping beef filling. I dipped the dumplings into the salty soy sauce served with them and achieved a true umami flavor.  Umami is one of the categories of taste and is used to describe a highly pleasing savory taste. These dumplings did just that, which is why I recommend enduring the long wait to get into Wo Hop.
4. Fay Da Bakery
83 Mott St.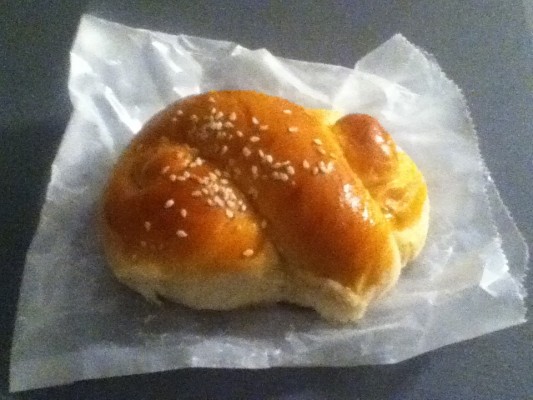 Fay Da Bakery is like a Chinese bakery for beginners. Using tongs and a cafeteria-style tray, you serve yourself from endless display cases filled with baked and steamed goods. The pork buns are winners and, next to David Chang's pork buns from Momofuku, are my favorite in the city. The filling is composed of shredded pork and minced vegetables with a sweet soy sauce. Another bun unique to Fay Da is the sweet potato bun. Like a sweet potato pie that has been rolled into a bun, a cinnamon and nutmeg filling mingles with the flaky, egg-washed bun crust. For our vegetarian friends, the vegetable-steamed bun is a healthy option and is very flavorful. The chunks of cabbage and mushroom make it a hearty option. However, no matter what you try at Fay Da, you can be sure that the quality and flavors will be consistently delicious.
5. Simply Bakery
70 Bayard St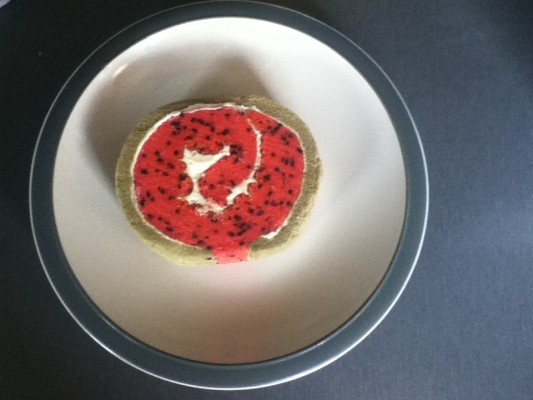 I decided to end my journey on the same note as I began it and got dessert. Unlike most bakeries in Chinatown, Simply Bakery has a sleek and modern interior. While everything looked delicious I was on a mission to try some of the best cake roll slices in Chinatown. Unlike a Swiss roll, the eastern version is much lighter and fluffier and comes in flavors like green tea and strawberry. I got two slices of cake; the first was strawberry and green tea, with black sesame seeds sprinkled into the strawberry section of the cake and a light vanilla buttercream that was swirled throughout. I was surprised at how much the strawberry cake tasted like an actual strawberry. The black sesame seeds were the perfect pairing with the super sweet buttercream filling. The second slice I got was made up of squares of chocolate, strawberry, vanilla and green tea cake that were formed into a rectangle and bound by butter cream. Both cake slices were very light, flavorful and served as a sweet way to end a delicious day in Chinatown.