Technology and the 21st Century Model of Education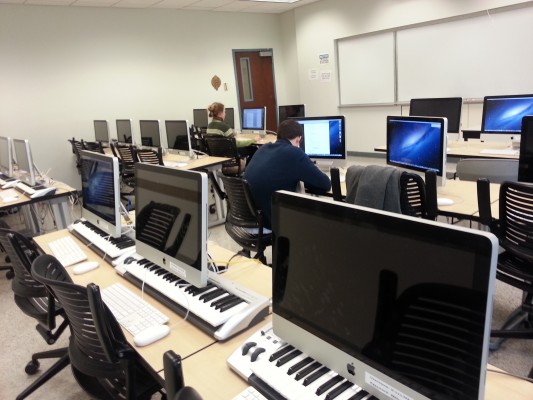 Several forms of technology are set to drastically change college education, according to The Chronicle of Higher Education. Faculty and staff at Fordham College at Lincoln Center (FCLC) are utilizing such technology in the classroom.
According to the NMC Horizon Report of the 2014 High Education Preview, online, hybrid and collaborative learning are tools that will change the learning environment at colleges. Such online learning environments can offer different affordances than the physical campus. In addition, this type of learning environment would allow for students to collaborate with each other and the professor in the classroom.
Furthermore, social media, will impact college education in the coming years. According to the report, educators and students are increasingly using social media to share news and other developments in classes. Social media will impact scholarly communication between students and professors.
According to Erick Kelemen, director of Center Teaching for Excellence, the Fordham faculty is indeed applying these two factors in the classroom. "[Online, collaborative and hybrid learning and social media] is definitely happening at Fordham in general," he said. "I am sure that the faculty is engaged in the new technology."
Associate Vice President of Instructional Technology Academic Computing Fleur Eshghi agrees with Kelemen. "The growth of educational technology, especially Web technologies, have been on a steady rise during the past decade or so in college; Fordham is no exception," she said.
"We have made great progress to continue to provide and modernize our access to mainstream technology for teaching," Eshghi said. According to Eshgi, these online technologies at FCLC include the following: Internet in 100 percent of the classrooms and residential areas, Learning Management Systems (LMS), networking and social media and more.
"Faculty at Fordham are able to find new ways of using technology in the classroom," Kelemen said. "Technology will make education better; it will make teachers better teachers and students better students."
"All technology, when designed carefully and used appropriately in proper context, can augment the teaching and learning process in and out of the classroom," Eshghi said.
Eshghi shares a similar view to Kelemen in regards to the faculty's use of technology. She found that the faculty was enthusiastic about applying online methods to teaching. "The number of [faculty and staff] who take advantage of the power of the latest technologies- social media among them—is on par with the national trend in this regard," she said.
However, Eshghi said that it is difficult to judge approximately how many professors are using online and social media resources. "Since the teaching process is the purview of the [faculty and students], it is hard to tell from afar to what extent each faculty uses technology in his or her classes," she said.
When asked whether Fordham is shifting from the "traditional" to a more modern, online way of teaching, Eshghi said that technology is, rather, contributing to Fordham's teaching tradition. "Any growing trend in the use of technology tools will be to augment Fordham's teaching tradition," she said.
Despite faculty's use of online applications and social media, Kelemen said that Fordham professors are not the kind to leave the traditional way of teaching.
"I do not think Fordham will leave that traditional way of teaching," Kelemen said. "In general, those in-person moments between students and professors are important. Even though there are professors that are using Tumblr, Twitter and Facebook, the fundamental practice of traditional teaching will not change."
Professor of Communications and Media Studies Brian Rose,utilizes Facebook to help organize material for his Intro to Media Industries class. "It was easier for students to locate articles assigned for class than using Blackboard," he said. "Using Facebook is easy and accessible."