Lifting the Curtain on the Future of Opera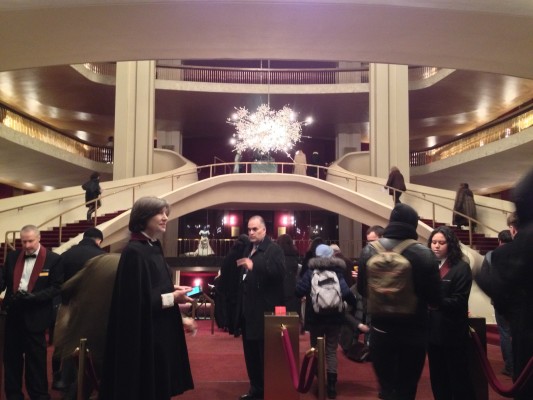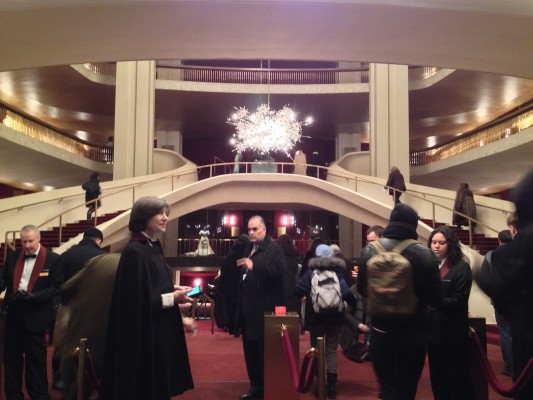 For most, the idea of opera conjures up an image of the wrinkled and rich masses bespectacled in stodgy opera glasses. It's a classic perception, but not necessarily true—now is a particularly innovative time for opera. In the past few months alone, opera star Renée Fleming's soprano tones soared singing "The Star-Spangled Banner" at Superbowl XLVIII, the first time in history an opera singer has done so; the revamp of "Die Fledermaus" at the Metropolitan Opera in late December with critics raving about its glitter and exuberance; and the opera adaptation of the Oscar-winning film "Brokeback Mountain" opened on Jan. 28 at the Teatro Real in Madrid.
In the midst of all this innovation and change, Fordham College at Lincoln Center (FCLC) sits at its heart, positioned next to the Metropolitan Opera and the Juilliard School, meccas of the opera world. Many people feel that Fordham is missing out.
Despite the 2013 closing of the New York City Opera(NYCO), the curtain isn't drawn yet. In the direction of the classics as well as original productions, there is a lot of upheaval happening in the opera world, according to Lawrence Kramer, distinguished professor of English at FCLC and a renowned music critic and composer. While Kramer does assert that the classic model for big-scale operas is doing well, especially internationally, he believes that "the future of opera looks like a combination of a continuation of the grand old tradition…with this innovative new opera production on a more mobile, more lean-mean scale."
The future of opera is still being written, but Kramer believes a large portion of it will involve hybrid forms of opera production inspired by other works. The creation of recent original operas, particularly "Brokeback Mountain" and the 2011 opera "Anna Nicole," which opened at the NYCO in 2013 and was based on the life of the infamous Anna Nicole Smith. "Brokeback Mountain" uses a cross between opera and other forms, such as short stories and film and "Anna Nicole" employs tabloid and newspaper headlines for inspirational fodder. "I think that as far as the future of opera is concerned, we can expect more of [operas with mixed forms]. The boundaries that used to separate different levels of culture have obviously weakened; there's a lot of cross-fertilization," Kramer said.
"There's no delineation anymore, thank heavens…come back to me in a few years and ask me to comment on the first rap-opera," the professor said.
Even "Die Fledermaus," a more traditional operetta, which is like an opera but lighter and usually more comical, has a very musical style to it. Frank DiLella, adjunct professor of communication and media studies and a reporter for NY1, wrote in his piece "'Die Fledermaus' Shakes Up the Met" that this production "threw in some musical theater humor in the text," suggesting strong musical undertones in the operetta. Kramer asserted that "opera is essentially a 19th century form of popular entertainment, and it's actually one of the forerunners of the Broadway musical." Kramer went on to explain that "if you go back in the earlier 20th century, you'll see that singing styles on Broadway were often like the singing styles of operetta and it gradually evolved into something else so that the two worlds represented by this, the European form and this American form, eventually grew apart. So I gather that this staging of 'Die Fledermaus'… is a kind of self-conscious production which is aware of this history and capitalizes on it in this performance."
While the associations between opera and high-class snobbery do reverberate to some people, Kramer insists that class isn't a problem for either audience members or aspiring singers. "Nobody's going to scalp opera tickets for thousands of bucks, but you find people doing that for concerts by big name pop singers. It's really not an economic thing, and in fact if you really want to go to a Metropolitan opera and get a perfectly decent seat, you can do it for $25," Kramer said. He asserts that the link between snobbishness and opera is mostly a misconception, and there is no true link between class and more classical musical styles. While hopeful opera singers do have to train with vocal coaches and ultimately go to a conservatory, it's roughly the same commitment as any other graduate school endeavor, and often higher institutions will support their students financially.
According to Kramer, "we do have one invaluable resource at Fordham, which no other American university can match—the Metropolitan Opera is right across the street. I think there is movement afoot to do more to help encourage people to train for careers in musical performance."
While FCLC's proximity to such institutions should be taken advantage of, some members of the music department urge students to go outside of the ivory towers to experience the true arts scene of New York. "For someone who is in the arts in New York City, that's the great benefit of being in New York City. You can have the museum [meaning the more traditional Metropolitan Opera] right across the street, but to get out and actually engage with the arts in your generation [is invaluable]" Rev. Robert R. Grimes, S.J., dean of FCLC said, suggesting students explore the arts outside of the name-brand institutions.
Music major and opera enthusiast Taylor Palmer, FCLC '16, who is interested in exploring opera and other classical forms at Fordham, explained that "opera, because it's the basis of a lot of jazz, a lot of pop, a lot of Broadway music now, it kind of helps a person when they learn that to sing everything else…it's the basis of all the other music I want to sing, so that's how it affects me." The Fordham music program would be strengthened by a deeper exploration of opera here and would allow for music majors, especially vocalists, to polish their knowledge and expertise of all forms of music even if they're not interested in becoming the next Anna Netrebko or Luciano Pavarotti.
Changes won't make themselves, however, and despite Fordham's proximity to world-renowned opera institutions, "it's really up to the students to say 'you know, folks, professors, University: we'd like to do some more with opera. We've got this great resource, let's go ahead with it.' And I think that would meet with a favorable response," Kramer said. Palmer agrees with this, and said "I was disappointed that Fordham didn't have a larger focus on vocal performance here because I think that they're missing out on a major opportunity, especially because we're in the city and because we're so close to Lincoln Center."
Palmer went on to assert that "I'm not the only one that feels this way. I think there's a fairly large community at Fordham who would be interested in the same things I am and would be willing to work with both the Fordham community and the community outside Fordham to make that happen."