You Can't Win Them All, Just Ask Shaun White
Looking to become the first American male to win gold in three consecutive Winter Olympics, Shaun White has failed to reach his goal. White finished in a surprising fourth place in the men's halfpipe event on Feb. 11. Since the sport was first introduced to the Winter Olympic Games in 1998, this is the first time the U.S. has not won a medal in the event.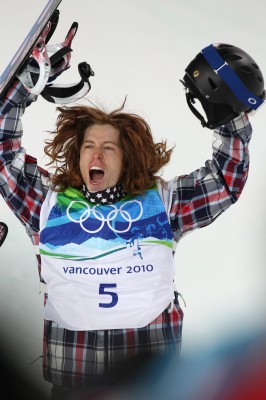 Iouri Podladtchikov, commonly known as I-Pod, won gold for Switzerland landing his trademark trick called You Only Live Once (Yolo). The trick was a spectacle consisting of an unprecedented 1440 total degrees of spin. It included two head-over-heel flips and two 360-degree turns. Yolo was the best trick done so far in the history of snowboarding. Since the trick was first done in March, it has left judges and other snowboarders in awe. One person who was particularly interested in Yolo was Shaun White.
According to Eddie Pells of Associated Press, Shaun White had been watching the trick on his computer and trying to duplicate it since March. In the qualifying round of the Olympics, White eventually did get to show that he could do the trick. After successfully completing it, many thought he was a gold favorite.
Alas, they were wrong.
Fighting injuries and failing the Yolo trick several times were not the only sources of pressure for the world's most famous snowboarder. Less than 24 hours before the debut of the slopestyle event, Shaun White pulled out of the event. "I have made the decision to focus solely on trying to bring home the third straight gold medal in halfpipe for Team USA," White said to John Branch of the New York Times.
Pulling out of the slopestyle event gathered criticism. Critics such as Sebastien Toutant, a Canadian snowboarder, mocked White on Twitter. On Feb. 5, Toutant tweeted, "Mr. White… It's easy to find excuses to pull out of a contest when you think you can't win."
But White came in second place in a December halfpipe event competition in Breckenridge, Colo., so he was determined to win first place at the Olympics. So much so that he gave the second place trophy to a young boy in the crowd.
But White didn't even come into the top three. On his first attempt of Yolo, he fell on his backside. Later, he failed his double-cork trick, falling again. Instead, I-Pod stole the show with gold. Additionally, the Japanese duo consisting of 15-year-old Ayumu Hirano and 18-year-old Taku Hiraoka won silver and gold, respectively.
At 27 years old, White is already a legend in snowboarding. He will be remembered as an early pioneer of the sport. In fact, what the results show is that now the sport has reached a more global level. It's not only a famous sport in America but in other parts of the world. America will now have a harder time asserting its dominance of guaranteed medals in future Olympics. As he gets older and his rivals are younger and healthier, White's future in dominating the sport now looks bleak.
And while White is heading home empty-handed, Swiss snowboarder David Habluetzel revealed part of Podladtchikov's plans. He told Lindsay Jones of USA Today that Podladtchikov's plans included "Vodka, caviar, and friends." One can't really blame him.