Poems and Music for Poets Out Loud
When many people think of poetry, they will oftentimes think of dry, dull, confusing words or call to mind images of bloodless, long-dead authors who talk about springtime more than anyone would care to listen to. Get ready to throw your preconceived notions about poetry straight out the window because the upcoming Poets Out Loud Event is gearing up to challenge that view like nothing before.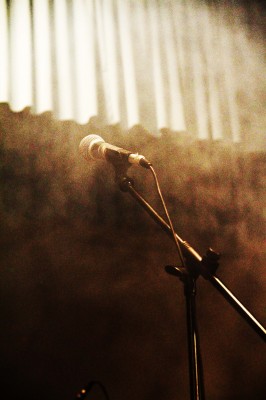 On Thursday, Feb. 13, Poets Out Loud will hold a night of poetry and song that will make you wonder why you didn't start reading poetry years ago. Part of the Donne and Contemporary Poetry series, Thursday's reading will feature the contemporary poet Molly Peacock reading some of her own poems, followed by a performance by bass guitarist and scholar of 17th century literature Nigel Smith, who will play original musical arrangements of four of John Donne's timeless romantic poems.
Donne is frequently cited as the most prominent of the metaphysical poets, known for his strong, vivid imagery and unique metaphors. Regarding Donne's work, Peacock said, "It is vigorous. It's as if each poem has its own physical body.  It's muscles, it's veins, it's bones. It's just so physical. Even his so-called spiritual poems are deeply physical in nature."
Even if you've never heard of Peacock, you've likely seen the fruits of her labors with the MTA's Poetry in Motion program mounted in the subway trains, which allow people from all walks of life to experience poetry in their daily lives on their commute. "Sometimes, waiting to understand a poem is like doing field biology, waiting and waiting for the animal you're studying to finally appear to you. So when people have a chance to read short poems on the subway they get a chance to read them again and again, and the great thing about a poem is you can keep rereading it and it keeps giving back to you," Peacock said.
Events like these are a great opportunity for people who don't always like poetry to expose themselves to different styles of it. Poets Out Loud events serve to make the art come alive in fresh and engaging ways. Even someone with little to no experience with poetry can come and try something new and experience it with the added excitement and passion of contemporary poets' commentary and interpretation. There is nothing like experiencing an art form through the eyes of someone who is completely in love with it. "My own favorite thing about poetry is being captured by the pulse of somebody else's imagination, and when something is revealed to me that I already knew but came to recognize through the poem. I absolutely believe there is poetry for everybody," Peacock said.
Thursday's event is not one to be missed. Come and experience the enthusiasm of these artists' imaginations for yourself.
IF YOU GO
What: Poets Out Loud
Where:  12th Floor Lounge (113 West 60th Street)
When: Feb. 13, 2014
Time: 7:00 P.M.
Price: Free