Team Chemistry is Key Factor in Rams' Success
As the clock expired on Saturday afternoon, the women's basketball team completed one of their best performances of the season. The Fordham Rams defeated the University of Massachusetts' (UMass) Minutewomen with a final score of 80-54. It was the latest win in a season spearheaded by chemistry on and off the court.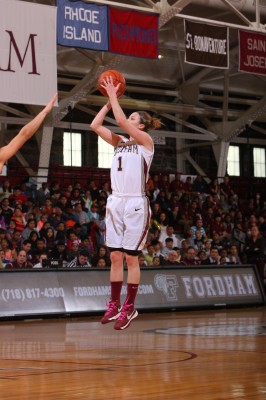 "Early on, a lot of people asked us how we were going to back up such a good season last season," Erin Rooney, Fordham College at Rose Hill (FCRH) '14, said.  "Our coaches and people following us were like, can you back it up? Or was that just a one year wonder team?"
So far, Rooney and her teammates have indeed backed up last year's stellar performance. In fact, at 16-4, they have started off the year with one of the best records in school history. "Chemistry is a huge thing," Rooney said. And the chemistry started early on. The team went on a foreign tour to Australia, New Zealand and Fiji before the start of the 2013-14 school year. There, they played a series of basketball games with various teams in each country, while also hosting clinics. "Our chemistry really started from that tour. We were around each other for two weeks straight, so that creates chemistry."
In the defeat over UMass, Rooney contributed 22 points, eight assists and eight rebounds while only giving up one turnover. Her co-captain Abigail Corning, FCRH '14, also had a great game. Corning scored 18 points and had three assists and five rebounds. She agreed with Rooney, stating that team chemistry was a major factor in their performance this season. "On the court, we share the ball really well," Corning said. "There are no selfish players. Everyone comes to practice ready to work hard to make the team better, not just work hard to make themselves better."
Although there are some similarities between the current team and last season's team, such as a good defense and limited turnovers, there is an obvious change in playing style. While last year's team had one true leading scorer, there is more of a balanced effort between the starting five. "There's more balanced scoring," Corning said. "On any given night, any of our players could put up good figures. It's really spread out so it's not just one person carrying the team."
The input from each player allowed the Rams to win close games. For instance, in a game against Virginia Commonwealth University (VCU), the team worked together to come from behind and take the 76-73 victory. It was the first time this season that VCU was defeated at home. "That was a big win for us because we were really the only ones who believed we could win that game," Corning said. "The odds were totally against us and together we were able to push through and win."
Both Corning and Rooney are hoping to make it back to the championship game this year, and hopefully win this time around. "We couldn't have gotten any closer to winning it. We don't want to hold ourselves short on anything so that's the goal for the season," Rooney said. At this pace, and with the team chemistry alive and well, the Rams can certainly make a run for it. Their next game will be on Feb. 1 in Olean, NY against the St. Bonaventure University Bonnies.